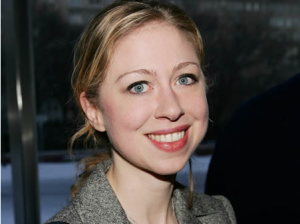 Think you're important? Oh, really? Have your parties ever caused the FAA to declare the skies above your house a no-fly zone? No? Then you're clearly not as cool as Chelsea Clinton, who weds this Saturday, July 31st to Mark Mezvinsky (who may or may not be distantly related to Amar'e Stoudemire but not Mel Gibson).
The daughter of Bill and Hillary Clinton may not be having the Obamas to her nuptials, but there will be plenty of VIPs in the house. That's not just according to everyone kvelling over the guest list — that's according to the FAA, which posted a NOTAM (Notice To Airmen) citing that reason for closing the airspace over Rhinebeck, NY from July 31, 2010 at 1900 UTC to August 01, 2010 at 0730 UTC. What it means: any flights in the zone have to be legit, with their flight plans pre-filed, under positive control (of flight controllers), pre-identified and in a pre-designated place.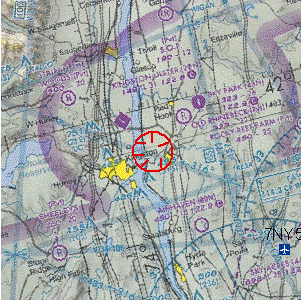 First noted by blogger Brian Williams (yes, that Brian Williams, on his NBC "Daily Nightly" blog), the FAA has posted a 'TFR' (Temporary Flight Restriction) at latitude: 41º56'42″N, longitude: 73º55'51″W, for a radius of 1.5 nautical mile. After all, as Williams notes, there will be a former President and the current Secretary of State in attendance, and likely "a wedding party understandably anxious to avoid aerial photography." (This also means that Politics Daily's Andrew Cohen won't be able to hire a plane to skywrite his love for Chelsea over the ceremony.)
It should be noted that the last time we wrote about FAA airspace closure for such reasons was back in September, when President Obama spoke at the memorial service for Walter Cronkite. This NOTAM seem a lot more restrictive, though that one was over New York City, where presumably there's more traffic than over Rhinebeck. But for this TFR, that would probably not be true this weekend, so thank you, FAA, for giving Chelsea & Mark their privacy! Unless Barbra Streisand starts live-tweeting. Dare to dream.
It's Official: Rhinebeck, New York Is Designated A No-fly Zone [Daily Nightly]
0/4317 NOTAM Details [FAA]
Related:
0/5100 NOTAM Details – flight restrictions over BP Oil Spill [FAA]
Images via Google News and FAA
Have a tip we should know? tips@mediaite.com