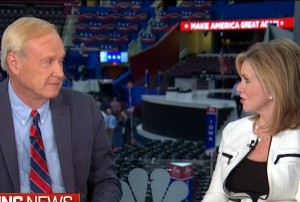 If the main stage at the Republican National Convention in Cleveland, Ohio isn't quite entertaining enough for you, hang around for the late-night interviews. In an RNC After Dark special, MSNBC host Chris Matthews clouded the mind of Republican Rep. Marsha Blackburn (R-TN) by asking her specific questions about the foreign policy she was pontificating about.
Two key areas of attack for Donald Trump and the Republicans against presumptive Democratic nominee Hillary Clinton are the decision to invade Iraq, and the toppling of Libyan dictator Moammar Gaddafi, but when Matthews pressed her on those issues, Blackburn was comically unprepared:
Matthews: Do you think it was smart to knock off Gaddafi?

Blackburn: I think that there are questions about whether it was. You look at what has happened in the aftermath. And quite frankly, I'm going to tell you, I'm not the expert.

Matthews: do you think we were right to go into iraq?

Blackburn: : I do. I think with the information we will at that time, yeah, I think we probably made the right decision.

Matthews: What was the information.

Blackburn: The information that was there dealing with what was happening on the ground in Iraq.
And such as the things and also the stuff in the Iraq, and such as, too.
Lucky for Blackburn, Matthews was too wrapped up in his own narrative-conjuring to notice that she'd soiled herself, or to know that Blackburn had, like 88 other House Republicans, voted against a Republican-led bill that would have defunded the Libyan intervention. Among those 89 Republicans was prospective Vice President Mike Pence, who, along with Blackburn and 79 others, simultaneously voted against authorizing the mission for a year.
Have a tip we should know? tips@mediaite.com