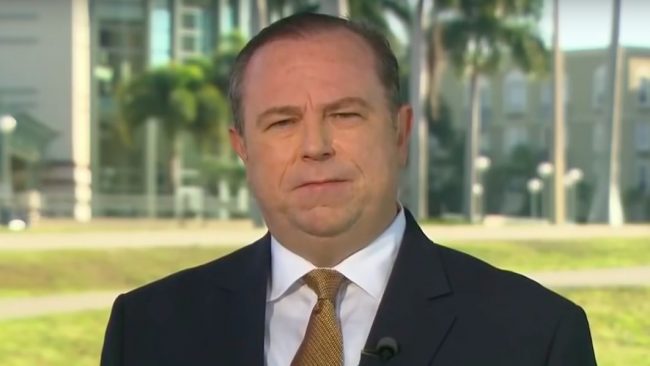 Of all Donald Trump's web of outside advisers, consultants and friends, few are more plugged in than Newsmax chief Chris Ruddy. But despite what seems to be a very close connection to the sitting president — and conservative bona fides — Ruddy has lately gone rogue on several key points of conservative conventional wisdom.
The old playbook has so far delivered Trump far more setbacks than victories. Maybe it's time for the president to listen to his old pal?

Ruddy, who's been on the Trump train since at least 2011, was listed by the New York Times as one of the 20 most influential people in Trump's orbit outside the White House.  Because of his ubiquity, The Atlantic called him the administration's Zelig. As a Mar-a-Lago member, Ruddy has regular access to Trump who, as we all know, visits the "Southern White House" very frequently.
Since Trump became president, however, Ruddy has made a number of increasingly surprising  departures from the administration. With the first 100 days now in the rear-view mirror, it is now Ruddy — and not the president — who is fanning the flame of the original populist vision that got Trump elected.
Don't believe me?
Let's consider Trump's first legislative foray, the zombified Republican effort to repeal Obamacare. Twice defeated and left for dead in March, Trump ultimately managed to arm twist his way to a narrow House victory for the American Health Care Act last week. But that came at a heavy price. The desperation for a political win led to a final bill that numerous GOP representatives did not read and that did not even have a final CBO score. Trump and House GOP leaders stitched up this Frankenstein's monster largely as an effort to appease the Freedom Caucus, the famously recalcitrant Republican bloc that not only toppled Speaker John Boehner but has also made the lower chamber virtually ungovernable.
What was Ruddy's position on health care? Work with Democrats, dump the haters, and press toward universal coverage.
"Remember that Obama and Trump agreed on the key, positive premise that every American should have access to medical care," wrote Ruddy in a March column. "Ditch the Freedom Caucus and the handful of Senate Republicans who want a complete repeal of Obamacare. They don't agree with universal coverage and will never be placated."
Ruddy further called for "upgrading" Medicaid  to become a "blanket insurer for the uninsured."
Working with Democrats? Universal coverage? Has Chris Ruddy has been reading Art of the Deal?
That little nugget was no outlier either. While the hard right is salivating for Trump to replace Ruth Bader Ginsburg with an activist Conservative if the 84-year-old Supreme Court Justice retires, Ruddy once against bucked the swamp. The Newsmax chief thinks Trump should extend an olive branch to Democrats and keep the ideological balance more stable by appointing — believe it or not — Merrick Garland.
"They would remove a very liberal Democrat with a moderate, consensus Democrat, who I think Garland is," Ruddy told Business Insider in April. "And I think it would be a huge move and a sign for Trump that he's willing to break through the political ice."
Oh and that that nuclear option to confirm Neil Gorsuch — which John McCain said only "stupid idiots" would vote for, shortly before he voted for it — Well Ruddy was against that too.
At the beginning of his presidency, Donald Trump enjoyed a truly historic opportunity. His sweep in states like Pennsylvania, Michigan and Wisconsin gave him a mandate to reorder politics and break past the traditional ideological coalitions that helped turned D.C. into the swamp he swore to drain. As Ruddy noted, Trump originally came at health care from a universal coverage standpoint starkly at odds with Paul Ryan and his "nobody dies because they lack health care access" wing of the GOP. Creating a Republican path to that elusive goal could have cemented Trump's electoral map for a generation. Goodwill from Democrats for "saving" Obamacare could have been immediately invested in tax reform which now seems to be DOA.
It is truly baffling that Trump made no effort to enlist good faith Democrats into the health care effort and instead farmed out the process to Ryan, a man who left him for dead in October, and whose vision of the GOP Trump so throughly demolished in the 2016 Republican primary.
Through his secretary, Ruddy declined to comment for this article and it's a real shame. If he had been willing to speak, I would have asked him for his view on how Trump might right the ship of his troubled presidency. While we'll never know what Ruddy and Trump say in their private moments, the 45th president would be wise to start listening.
Follow Jon Levine on Twitter / Facebook.
This is an opinion piece. The views expressed in this article are those of just the author.