Christian Vlogger Kicked Out of Conference for Allegedly Threatening Violence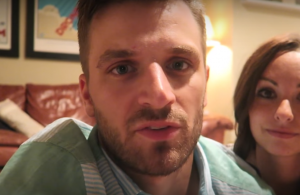 A Christian vlogger was kicked out of the Vlogger Fair conference this weekend for allegedly threatening violence.
Sam Rader got lots of online attention a few weeks ago with his viral video surprising his wife Nia by telling her she's pregnant. A tearful follow-up video revealed they found out there was a miscarriage. There was a lot of subsequent online suspicion about whether the whole thing was a hoax.
And then just days ago, Rader confessed in a video that he set up an Ashley Madison account, but he's found forgiveness both from God and from his wife.
Which brings us to yesterday, when Rader was at the Vlogger Fair conference. Gawker reports that he was "threatening violence" against other attendees. Rader confirmed to Gawker he was booted out, but provided this account of what happened:
It was one person, and I didn't make a threat. What happened was there was a couple of fellow vloggers who had ridiculed our family on Twitter regarding the method we were mourning the loss, our miscarriage on Twitter.
He denied threatening anyone and said, "If I made a threat, it was to the one person, and it was, 'You need to watch out before he messes with my family.'"
Two vloggers at the conference gave a slightly different take:
At the next con you're not invited to, definitely don't threaten violence against other vloggers? #trash #godbless https://t.co/hnAVE6LCYV

— Meghan Tonjes (@meghantonjes) August 22, 2015
Look at all the people not getting kicked out of cons. Then look at the people who are. @carterreynolds @samandnia

— Meghan Tonjes (@meghantonjes) August 22, 2015
[image via screengrab]
— —
Follow Josh Feldman on Twitter: @feldmaniac
Have a tip we should know? [email protected]
Josh Feldman - Senior Editor