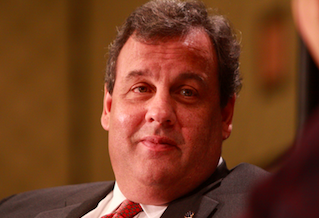 New Jersey Governor Chris Christie's office is firing back at The New York Times's recent controversial report on his "Bridgegate" scandal with an extensive memo to supporters. The document, obtained by The Daily Caller, uses the Times' public editor's words, along with media criticism from numerous cites and individuals (including Mediaite's Noah Rothman) to push back against the claims that he knew about the George Washington Bridge lane closures as they were happening.
On Friday, the Times published a letter from the attorney of former Christie aide David Wildstein claiming that "evidence exists" showing Christie did have prior knowledge of the decision to close the bridge lanes. However, the paper first stated Wildstein "had the evidence to prove" Christie knew about it before clarifying the piece to show that was not the case. They declined to include a correction or other indication that the article had been updated on the website.
Later that day, Christie's office issued a statement, refuting The New York Times' report and saying the governor had "absolutely no prior knowledge of the lane closures before they happened and whatever Mr. Wildstein's motivations were for closing them to begin with." In the document sent to supporters today, Christie's office highlighted the changes made by the Times to the story's lead under the headline "'Sloppy' and 'Misleading': The New York Times' Reporting Of Wildstein's Allegations Face Broad Criticism."
What follows is an extensive list of quotes, links and tweets from sites as varied as Town Hall and POLITICO and commentators such as CNN's Piers Morgan and radio host Hugh Hewitt. The general takeaway from the document is that the media at large was not happy with the way the Times handled the subtle yet important change to Friday's article.
This is the second time over the last month that Christie has deflected attention from his own potential wrong-doing in relation to "Bridgegate" to attack the media. In January, his office issued a statement that called MSNBC a "partisan network that has been openly hostile to Governor Christie and almost gleeful in their efforts attacking him."
Read the full memo from Christie's office below, via The Daily Caller:
Christie on Nyt by Alex Pappas
[photo via Flickr/Gage Skidmore]
— —
>> Follow Matt Wilstein (@TheMattWilstein) on Twitter
Have a tip we should know? tips@mediaite.com