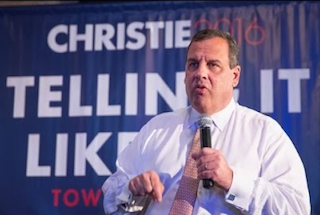 Chris Christie really, really doesn't like marijuana.
During one of his "Telling It Like It Is" town hall events in New Hampshire on Tuesday, the New Jersey Governor and 2016 GOP presidential candidate once again let his unusually strong views on the topic be known, this time with a warning to people who live in states like Colorado and Washington where recreational use of the drug is currently legal.
"If you're getting high in Colorado today, enjoy it," Christie said at the Salt Hill Pub in Newport, New Hampshire, as first reported by Bloomberg Politics. "As of January 2017, I will enforce the federal laws."
This is hardly the first time Christie has expressed his strong anti-marijuana views. Earlier this year, he said that tax revenue raised through legalized weed would constitute "blood money." Later, when he was confronted with the idea that legalization is "inevitable" Christie said it would "never" happen in New Jersey as long as he is governor.
For some reason, Christie has latched onto this issue as an important one, and unless he thought it would benefit him politically, it's hard to imagine why he would continue to hammer it as a presidential candidate. But exactly what constituency is trying to court with this message?
As of last year, Pew found the 53% of Americans support marijuana legalization with 44% opposed. Republicans are less likely to support it than Democrats, so perhaps Christie is attempting to outflank some of his conservative rivals by appealing to voters who think the Obama Administration has flaunted the "rule of law" by allowing states to sell and tax marijuana without interference from the federal government.
But as a candidate like Rand Paul has demonstrated, it's just as easy to appeal to the conservative base with a states' rights argument on this issue. Meanwhile, Christie's sharp marijuana opposition has alienated commentators on both sides of the political spectrum, from Jon Stewart to Greg Gutfeld.
"I think there are a lot of people in Colorado who are not too thrilled with what's going on there," the candidate told Face the Nation earlier this month. But of course, 55% of Colorado voters said just the opposite loud and clear at the ballot box in November 2012. One year after the law went into effect, more than 90% of those who voted for the measure said their minds had not been changed on the issue. And sales brought the state an extra $53 million in tax revenue.
But perhaps the data that should scare Christie the most is just how unpopular he — and the rest of the 2016 field — is compared to marijuana in three major swing states. According to a Quinnipiac University poll conducted earlier this year, more than 80 percent of respondents in Ohio, Pennsylvania and Florida support medical marijuana and more then 50% support recreational marijuana. Christie's favorability rating in those three states barely cracks the 30% mark.
[Photo via screengrab]
— —
>> Follow Matt Wilstein (@TheMattWilstein) on Twitter
Have a tip we should know? tips@mediaite.com