Chuck Todd: 'Disconcerting' That NBC Judges Meet the Press on Ratings, Not Content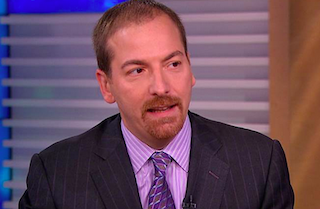 For an hour and 11 minutes this week, NBC News' Chuck Todd spoke candidly about his experience so far as moderator of Meet the Press on The Moment podcast with host Brian Koppelman. It was a sprawling and refreshingly honest conversation, but one particularly revealing moment came when Todd discussed how his NBC bosses judge the success of his show nine months into his tenure.
Asked by Koppelman "where the journalism ends and showbiz begins," without any explicit mention of his colleague Brian Williams, Todd surprised the host by saying, "This is the first job I've had where I don't believe I'm judged on content first."
"I think my bosses would probably never say that," he continued. "But the fact of the matter is, your show is good if the ratings are good." Todd compared it to Hollywood movies that are only considered successful if they have strong box office numbers. "So, this is the first time I've been judged now on numbers, on show business, and that is a little disconcerting for me."
Todd said that this mentality is affecting how he is able to conduct his show. For instance, he said that during his first episode when he had President Barack Obama on for 30 minutes of the hour-long show, some executives told him that was too much time. The ratings for that show did end up topping his competition, but not by much.
When Todd took over Meet the Press from David Gregory, he was charged with pulling it out of a 21-year ratings low behind ABC's This Week and CBS' Face the Nation. Over the past nine months, the show has made some significant strides, posting its best May Sweeps period since 2012 last month. Its biggest gains have come in the advertiser-coveted 18-49 where it regularly comes in first place on Sunday mornings.
Towards the end of the interview, Todd said that he does "wear the burden" and the "legacy" of hosting the "longest-running television show" in history. "I just want to make sure I'm not the last moderator of Meet the Press," he joked.
Listen to the full podcast interview below, via Slate (ratings discussion starts at approximately 18 minutes):
CORRECTION: A previous version of this story indicated that Meet the Press regularly comes in first place in the 25-54 demo. Its victories have been in the 18-49 demo.
[Photo via NBC]
— —
>> Follow Matt Wilstein (@TheMattWilstein) on Twitter
Have a tip we should know? [email protected]