Clinton Camp Rolls Out 'Smart Leadership' Video In Time for Big Benghazi Week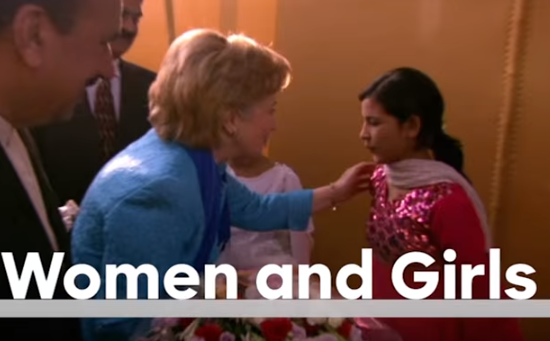 On Monday, the official Hillary Clinton YouTube channel released "Hillary Clinton: Smart leadership for the 21st Century", a video set to chiming music aimed squarely at highlighting Clinton's achievements at the State Department. With presumed virality behind the video, the Clinton camp is undoubtedly hoping to sway the general public's view of her service in the Obama administration.
With spliced soundbites from people like former Navy Seal Eric Gardiner, former Australian Prime Minister Julia Gillard, and even Madeleine Albright, the video includes wonderfully edited montages to Clinton's service. But does the five minute video have what it will take to sway the court of public opinion? Mediaite investigates.
Former US Ambassador Michael Guest (who is openly gay for the record — yes, this matters ala subtle LGBT support of the candidate) opens with, "[Clinton] was the most dogged, determined Secretary of State I think I've ever seen". This is a strong opening, and serves at the central theme the Clinton campaign is looking to convey.
The video delves into Clinton's relationship with President Barack Obama, and the close dynamic between the two. Without so much as directly implying a potential Obama endorsement, this imagery plays to the heart of the Democratic base who has held Obama and particular his second term successes in high favor. However, note the repeated use of the word "rivalry" here, as a careful indicator that as Clinton has suggested, she is not running as an alternative to Obama's third term.
Former CIA Director Leon Panetta is next, lending towards Clinton's "credibility", which is perhaps the talking point most used against her candidacy in light of the email scandal and Thursday's hearing.
Much to the presumed chagrin of the women who comprise Fox's Outnumbered, the video delves next into the world that the campaign is hitting hard: Clinton's work as a champion of women's rights. Gillard notes to camera, "Hillary Clinton understood in her heart how important it was for girls to get an opportunity. But she also understood in her head, that is we want to build peaceful, economically-prosperous nations, then we have to educate girls". To this point, many forget that Hillary Clinton has long been a fighting voice for female disenfranchisement around the world, and not simply an "outsider candidate" as a result of her gender.
Next, the video jumps into the boldly presented "Iran Sanctions" section, and by now it's clear that this truly is a preemptive move to tackle every conceivable knock again Clinton imaginable. Cleverly, the campaign even uses footage of Colin Powell discussing the "super highway to create nuclear weapons" that Iran has been on. "Her ability to pull together all of the nations on the sanctions on Iran was a remarkable effort," says Panetta.
Toss in a well-placed quote from the arguably right-of-center Wall Street Journal noting, "Give Hillary Clinton credit for hitting a half-court shot at the buzzer… That's a diplomatic victory we didn't expect."
Clinton's work on the Gaza Strip is well-noted, though perhaps too-briefly packaged for niceties. It presents an ABC News report claiming, "Back from the brink tonight, Israeli and Palestinian leaders agree to a truce, a welcome development for Secretary Hillary Clinton who arrived and helped broker that peace deal."
LGBT rights. Korean relations. Clinton's keen intellect. Global health and HIV. All referenced in Monday's YouTube video. Even Gardiner makes reference to his status as a veteran, again covering all of the conceivable bases of support, much like she did with her announcement video in April.
For the heart-string vote, Clinton wins in spades with the roll out of Monday's video, which you can watch above in its entirety. But as for Thursday's testimony in front of the House Select Committee on Benghazi, chances are that a well-edited piece of art is not going to earn Clinton points. I have a feeling Trey Gowdy will not be checking out YouTube anytime between now and Thursday.
Check back on Thursday for Mediaite coverage on Clinton's testimony.
[image via screengrab]
—
>> Follow J.D. Durkin on Twitter (@MediaiteJD)
This is an opinion piece. The views expressed in this article are those of just the author.