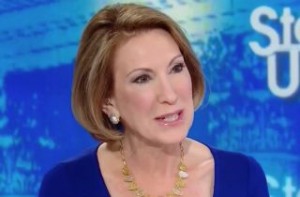 Donald Trump and Ben Carson threatened to boycott the next Republican debate unless CNBC agreed to limit the length to two hours, including commercials and opening and closing statements. Carly Fiorina told Iowa radio host Simon Conway she "disagrees" with her rivals.
"The american people like these debates, they get to see people in real time, answer real questions, Fiorina said. "I think opening and closing statements, honestly, they're what politicians always want. They're sort of canned, prepared statements, they don't really tell us anything new, they certainly don't tell us much about a candidate's thoughts on issues or whether they can think on their feet."
Fiorina told Conway the threat of boycott "says something about their endurance, and their comfort or discomfort" with discussing the issues. She said she hopes the CNBC debate "will be focused on substance and policy questions."
Fiorina may already be looking past her Republican contenders; a new ad by her Super PAC focuses on the "two women running for president: Hillary Clinton and Carly Fiorina." The video cross-cuts the debate performances of Clinton and Fiorina to highlight the differences between the two on major issues.
Whether Fiorina gets the chance to debate Clinton depends largely on the outcome of her performance against fellow Republicans. Regardless of the rules, Fiorina says she's prepared to take on her Republican opponents."I'll turn up for this debate because every debate is an opportunity to introduce myself to the American people," Fiorina said.
[Image via screengrab]
—
>> Follow Elizabeth Preza on Twitter (@lizacisms)
Have a tip we should know? tips@mediaite.com