CNN Appearances Show Bob Beckel Ready to Work Again; Here's His Best Option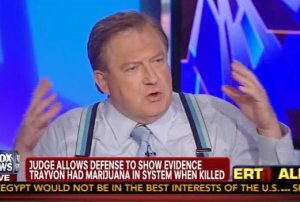 Bob Beckel is a rare breed in the cable news business for one reason: He somehow pulls off the combination of being a genuine, likable curmudgeon. And in doing so, he carved out a nice existence at Fox News, sparring effectively (without filter) with his political adversaries on The Five and doing weekly spots on The O'Reilly Factor.
But then–without notice or comment–the 66-year-old was gone. Not for a few days or weeks, but for four months. First back surgery was reportedly the reason, but eventually it was revealed that Beckel–who has suffered from drug and alcohol addiction in the past–had relapsed again and entered rehab, this time due to prescription drugs. What happened between the network and Beckel is unclear, but Fox's patience would eventually run out after being without a co-host of one of its most-popular programs for what it felt was too long, and Beckel was relieved of his duties in late June.
Fast forward to this past Friday night, when it was still somewhat of a surprise to see the guy who once ran Walter Mondale's 1984 presidential campaign back on cable news last night. The venue: CNN. Host: Don Lemon. The topic was, of course, Trump…whom CNN could find any one of 856 contributors and/or guests in the New York area to opine about. But Beckel got the call–or more likely–he pitched CNN on giving him a few at-bats. No crime there: Beckel wants to show he's clean, sober and ready to work again. CNN is wise to offer some guest spots (which don't cost the network anything outside of transport) as the beginning of a tryout while deciding if Beckel is worth the risk of signing to a contract. And on cue, there he is on Michael Smerconish's program on Saturday, making bold predictions like the GOP field being reduced to four from 17 following the New Hampshire primary.
But the network may take its time here. CNN isn't Fox. The pundit side of the house tends to be a bit more buttoned-up and less, well…Beckelesque. Through the years, he has created ample controversy on The Five: Referring to "the Chinamen" as the biggest threat to national security, calling for cutting off visas for students from Muslim countries after the Boston bombings, and often dropping f/s-bombs and flipping off his co-hosts. What flies at Fox may not necessarily mesh with the culture of CNN…
So would the network be the best fit for Beckel? Maybe, maybe not. For the 66-year-old to really shine, he always needs a foil, an adversary to play off of. Combative, befuddled, you've-got-to-be-effing-kidding-me-Bob always beats unchallenged, sleepy, affable Bob. And at CNN, it's not clear who that person is or what program currently on the docket would be any kind of real fit for him. Would he be fine as a contributor? Sure. But if I'm signing him, I want something more than just fine…just another face with no definitive home.
So how about MSNBC? Would 30 Rock be a better fit? Yes, but only if the network adds him to the Morning Joe table on a permanent basis. Know this: It's the closest thing to The Five in terms of extemporaneous thought and free-form analysis. As far as a foil, Joe Scarborough would be the right (and only from a host perspective) dance partner. In case you've missed it, Morning Joe has been much more energetic and noticeably more impactful lately. And in terms of timing with 2016 coverage already at full throttle, adding Beckel now would be a fine stroke by Andy Lack, who's mainly been doing subtraction at MSNBC since coming on as NBC News president earlier this year. But with nine hosts either gone or moved to different roles, it's now time for some addition. Problem is: It may already be too late if the recent CNN spots are any indication.
Whether it's CNN or MSNBC or any other network, Bob Beckel is coming back to cable news in one form or another, and at a reasonable price to the channel that signs him.
And if he can stay clean–no easy task for anyone battling addiction, which is a battle that never truly ends–the 2016 race and the endless analysis that is already in full swing is always more interesting with the likable curmudgeon that is Bob Beckel in the middle of it.
— —
Follow Joe Concha on Twitter @JoeConchaTV
Have a tip we should know? [email protected]