CNN's Disastrous Town Hall Provided Cheap Entertainment at the Expense of Meaningful Progress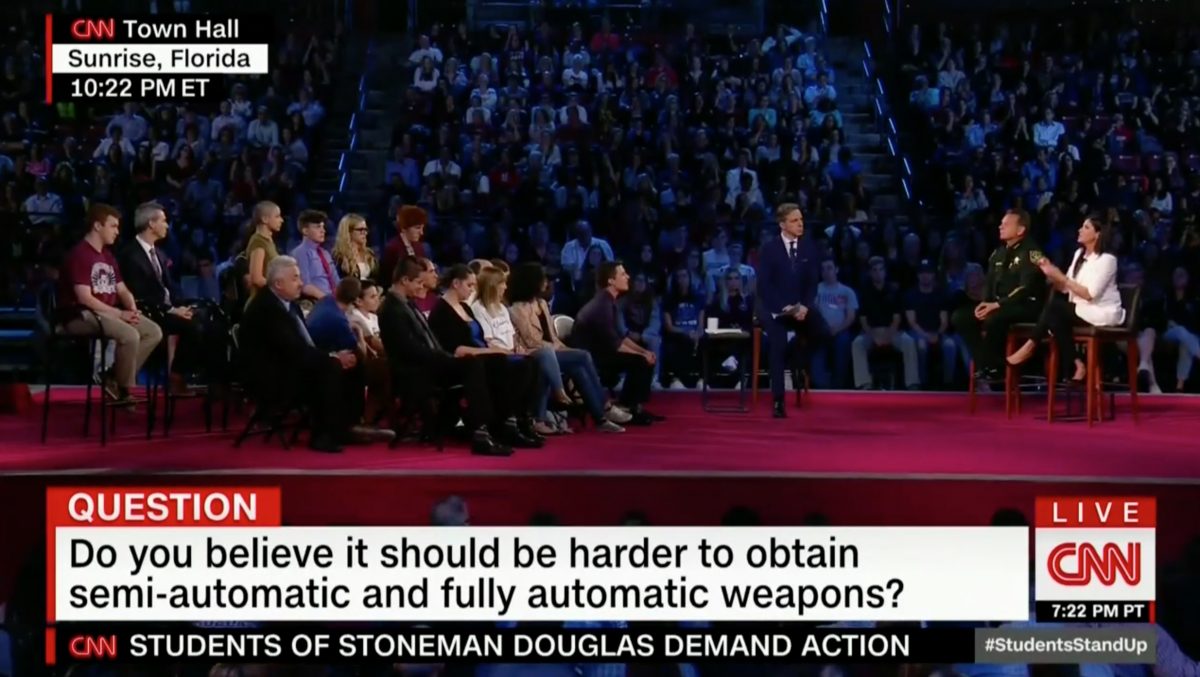 Much of the country has been on-edge since last week's massacre in Parkland, Florida. Emotions are running high as 17 students and teachers are being laid to rest and survivors of the shooting are advocating for change. So when CNN announced they were organizing a town hall with those affected by the tragedy, perhaps it could have brought the passions found on both sides of the gun debate together for a grounded, meaningful discussion.
Well, it didn't really pan out that way. At all.
To their credit, CNN has organized well-executed town halls before, often starring Senators Ted Cruz (R-TX) and Bernie Sanders (I-VT). The guests were given time to make opening and closing remarks and were moderated by one or two CNN anchors who allowed audience participants to ask questions while asking their own. And the crowds, while fairly large to fill the room, have been manageable.
This town hall was doomed from the start because it didn't even take place in a hall. It took place in an arena — the BB&T Center, which seats more than 20,000 people. And while the community deserves their questions answered by our leaders, to have such a vast audience, many of whom are understandably in an emotional state, was a huge error on CNN's part because their cheering and heckling halted the conversation numerous times throughout the night.
Florida Senators Bill Nelson (D) and Marco Rubio (R), Democratic Congressman Ted Deutch, who represents the district where the shooting took place, as well as Broward Sheriff Scott Israel and NRA spokeswoman Dana Loesch participated in what was essentially a two-part town hall. Florida Governor Rick Scott (R), President Donald Trump and Vice President Mike Pence were also extended invitations but did not attend (Trump and Pence participated in a listening session in the White House earlier in the day). The event was emceed by anchor Jake Tapper.
However, instead of a mixture of questions between the moderator and audience participants, virtually all of the questions came from the students, parents, and teachers of Marjory Stoneman Douglas High School. The questions were all entirely valid and understandable — given the raw emotions being felt by those in the Parkland community. But many were not designed to move the discussion forward towards reasonable solutions — and seemed more intended to shame gun rights advocates. One question from a student was aimed at the "puppet" politicians who accepted contributions from the NRA if the "blood of her classmates and her teachers worth their blood money." While the grief of these students is understandable, how can CNN allow such a question to be asked at their town hall?
No matter what your position is in this gun debate, Sen. Marco Rubio and Dana Loesch deserve credit for showing up. Rubio faced tough questions but earned some applause from the audience for several new positions he told them he has taken on gun control like raising the age restriction of gun ownership and reevaluating the capacity of magazines clips.
And Loesch was torn apart by the crowd. She faced nonstop heckling and was even called a "murderer" by an audience member. Another shouted "shame on you" when she reiterated the importance of taking red flags of these monsters seriously.
And this is exactly the problem with the civil discourse that the CNN town hall intended to bring about: it was not civil and it was barely discourse.
You can disagree with Loesch or the NRA on guns, but to call her a "murderer" for exercising her First Amendment right to defend her Second Amendment right is completely absurd. To say that she or her organization have "blood on their hands" only absolves the actual murderer who took the lives of 17 people.
Loesch, at one point, defended her position on not raising the age restriction of gun ownership by invoking a woman who had previously appeared in a CNN town hall about gun control, who was brutally raped as a college student and had since said she wished she had a gun to defend herself. You can disagree with Loesch on policy, but she had a reasonable defense. And how did the crowd react? They booed. Loesch's invocation of a rape victim who wanted to defend herself against her attacker was booed. Did the #MeToo movement suddenly end?
Meanwhile, Jake Tapper stayed quiet nearly entire time. And even when he did speak up in defense of Rubio or Loesch from the crowd, it was with the most dispassionate plea for them to settle down. And when Sheriff Israel denied Loesch's assertion that law enforcement was reportedly called the the house of the Parkland gunman 39 times prior to the massacre, something that CNN itself has reported, Tapper failed to fact-check the pro-gun control sheriff. To put it in CNN's terms, Loesch had an apple, Israel called it a banana. And Tapper stayed mum.
And that's the problem with the media's coverage of this issue — and CNN in particular. They aren't willing to give both sides a fair shake. CNN marketed this town hall by calling it "Stand Up: Students of Stoneman Douglas Demand Action" and used the hashtag #StudentsStandUp to promote it. The network essentially declared its position before even airing this town hall knowing all well that these students have been advocating for gun control. It only makes sense after a week's worth of shameful activist coverage of this shooting. How on earth can this news network objectively moderate a discussion on guns if they are so obviously tainted with their own bias?
You know who CNN can learn a thing or two from? The White House. Unlike the town hall, President Trump's listening session had participants from all across the political spectrum of the gun debate and together, they held a constructive discussion that was respectful of everyone. You couldn't find any of that during CNN's broadcast.
In his opening remarks, Rubio acknowledged that we're a "nation of people who know longer speak to each other" because of politics and urged people to be able to disagree on things "without accusing one another of being evil." And sadly, CNN did absolutely nothing to bridge this divide. In fact, they probably made it worse.
This is an opinion piece. The views expressed in this article are those of just the author.