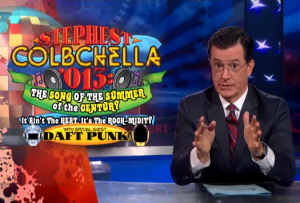 There's been a lot of rumor-mongering around whether Stephen Colbert's big Daft Punk-less extravaganza last week was staged or just subtle guerrilla marketing for the VMAs. Well, Colbert himself has now cleared up once and for all exactly what happened, the back-and-forths between his show and the group, and all the last-minute scrambling they had to do to put a show together.
As Colbert explained on comedian and longtime colleague Paul Mecurio's podcast, they booked Daft Punk a few weeks before the episode was scheduled to air, but was informed at regular intervals about what the group didn't want to do, such as being interviewed or performing. Colbert and his staff came up with the idea to do a pre-taped "Get Lucky" dance party full of celebrity cameos in order to have a killer show with Daft Punk despite what limitations the group had set.
This also explained Robin Thicke's "surprise" appearance, which was also pre-taped before the night of the episode. Colbert told Mecurio that Thicke's appearance would be incorporated as the saving grace after Daft Punk didn't perform their "song of the summer," thereby cuing up Thicke's "Blurred Lines." And when they found out a day before the show that Daft Punk couldn't come on due to a conflict with the MTV VMAs, they just rewrote around it.
Listen to the audio below, via the Paul Mecurio Show:
And if you want to listen to the whole interview, including Colbert reflecting on his pre-Report career and his Catholic faith, you can check it out here.
h/t AV Club
—–
Images via Viacom/Colbert Report
—–
Follow Josh Feldman on Twitter: @feldmaniac
Have a tip we should know? tips@mediaite.com
Josh Feldman - Senior Editor