College Newspaper Editor Deems 'Movember' Activism 'Sexist, Racist, Transphobic'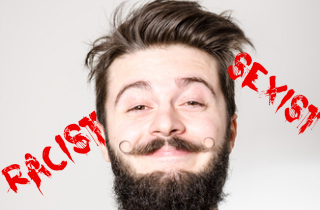 If you're a man who grows a November mustache for "Movember" charities benefiting prostate cancer research, you might be engaging in a "sexist, racist, transphobic, and misinformed" campaign, says the editor of McGill University's student newspaper.
Health and Education Editor Ralph Haddad penned an op-ed "Movember as microaggression" in a recent issue of the school's paper. As HyperVocal points out, McGill is Canada's equivalent of Harvard, and so the content within is full of the sort of academic pretenses one might expect. To wit:
Despite Movember claiming to be a global movement, it assumes privilege and a certain relation to class on behalf of the participant, which is only found in certain parts of the world. It is also wrong that Movember aims to link masculinity and being a man to secondary male characteristics, including having a prostate and being able to grow a moustache. To be completely clear, you don't have to be a man to have a prostate, and you don't have to have a prostate to be a man. Being a man, according to Movember, implies an archaic view of gender that implies that only a male/female gender binary exists, and that you aren't really a man if you don't necessarily identify with that binary. The idea of suggesting that men show solidarity with each other by growing moustaches is completely absurd.
And how's "Movember" sexist? Haddad explains that it's become a tool for misogynistic men to demand women "submit themselves and their bodies to male approval" because of how females receive scorn for also growing their body hair out for the month.
The op-ed never explicitly explains how "Movember" is racist except to include a chart showing how black men have a much higher incidence of diagnoses and death from prostate cancer.
"Do some basic research, educate yourself on the issue," Haddad concludes, "and think twice before growing a moustache this, or any other, November."
Read the full article here.
[h/t TheDC via HyperVocal]
[Image via Shutterstock]
— —
>> Follow Andrew Kirell (@AndrewKirell) on Twitter
Have a tip we should know? [email protected]