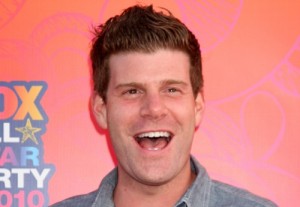 Comedian Steve Rannazzisi admitted to lying about his being in the south tower of the World Trade Center on Sept. 11, 2001.
The star of the successful FXX series The League and the new comedy special Breaking Dad, which premieres on Comedy Central this weekend, Rannazzisi frequently discussed his alleged Sept. 11 experiences throughout the course of his decade-long career. He even attributed his current success to his decision to leave New York City following the terrorist attacks.
As The New York Times reports, the comedian previously told the story of how he worked for Merrill Lynch, whose offices were located on the 54th floor of the south tower. According to his claims, he saw the first plane strike the north tower.
"I was there and then the first tower got hit and we were like jostled all over the place," he told fellow comedian and podcaster Marc Maron in 2009.
However, Rannazzisi's account was recently called into question when evidence of his never having worked for Merrill Lynch, nor in the World Trade Center, surfaced. The comedian was confronted with this evidence, and has since admitted to lying about the whole thing.
"I was not at the Trade Center on that day," he said in a statement to the NYT. "I don't know why I said this. This was inexcusable. I am truly, truly sorry."
Whether or not Rannazzisi's admission affects his status on The League, his new Comedy Central special or his endorsement deal with Buffalo Wild Wings remains to be seen. Although the latter did, when asked by the NYT, say in a statement that they were "disappointed to learn of Steve's misrepresentations regarding the events of September 11, 2001." They also said that a review of their business relationship with the comedian is currently under way.
In recent years, Rannazzisi began downplaying his Sept. 11 stories in subsequent interviews. He even told CBS Sports in 2013 that he wasn't actually in the south tower at the time.
[h/t The New York Times]
[Image via Shutterstock.com]
— —
>> Follow Andrew Husband (@AndrewHusband) on Twitter
Have a tip we should know? [email protected]