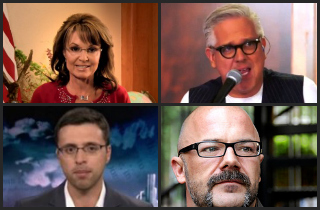 As the old saying goes: "The fastest way to disappointment is to depend on other people."
That saying is now becoming prevalent in the media world as well, and we largely have the New York Yankees, Arianna Huffington and Glenn Beck to thank for it.
Huh? Let me explain…
As reported here on Mediaite over the weekend, Fox News contributor Sarah Palin has launched her own eponymous channel for $9.95 per month or $99.95 per year on a new venture called TAPP (which stands for TV App). Her elevator pitch is simple: "Tired of media filters? Well, so am I". Given trust in media is at an all-time low courtesy of the rise of opinion journalism and shaping narratives, going directly to an already-cynical audience is truly a smart strategy being deployed by TAPP founders Jon Klein, former President of CNN, and Jeff Gaspin, former chairman of NBC Universal TV.
Given the resumes behind the channel and the incredible reaction — some positive, but increasingly negative — the former VP candidate and governor can generate every time she shares a controversial opinion (which seem to occur daily these days), this much is certain: The Palin channel will be quite profitable for all involved.
So what do the Yanks, Huffington and Beck have to do with the birth of the Sarah Palin Channel? Each illustrated years ago that creating ultra-niche networks can be lucrative.
In the case of the Yankees, courtesy of initial major backing from Goldman Sachs, the team started its own regional network (YES — or Yankees Sports & Entertainment) when the late George Steinbrenner realized his franchise was popular enough to warrant having its very own network 24/7/365. All it does now (with 21st Century Fox now owning 80 percent of the network) is command an average carriage fee of $3.20 per subscriber per month. Add it all up, the network generates nearly $470 million in annual affiliate revenue, plus about another $75 million in ad sales (per Needham Insights estimates). That's why the Yankees always have one of the highest payrolls in the league (#2 behind the Dodgers) and are always competitive: Not because of ticket sales, but the financial freedom that comes from having your own network.
On the political media side, Huffington and (later) Beck also saw the value of personal branding and haven't looked back. Ms. Huffington launched The Huffington Post in 2005 and it's currently the #1-ranked political site on the web (according to this month's eBizMBA Rank, which has Beck's TheBlaze at #2 and The Drudge Report at #3). Huffington went on to sell THP to AOL for over $300 million three years ago and still serves as editor-in-chief.
Same goes for Beck: After parting ways with Fox (he still periodically appears as a guest on The O'Reilly Factor), he launched GBTV—Glenn Beck TV—in 2011. Forbes reported last year that Beck is now pulling in $35-$45 million in profits from it annually. The money comes—as it will with Palin—from a $9.95-per-month subscription-based model. As Dan Primack of Fortune Magazine wrote in a column reporting on the Beck's self-made empire: "Glenn Beck doesn't just hawk gold, he mints it."
And the personal branding model hits keep on coming: Andrew Sullivan is raking it in for his online publication (The Dish) from readers via monthly subscriber fees (approx. 35,000 subscribers along with over $850,000 in revenue annually). Ezra Klein jumped the Washington Post ship to start his own explainer journalism venture with Vox Media.
As they say, the fastest way to disappointment is to depend on other people.
In the world of media–particularly political media–if the name recognition is there and the right backing/money is right behind it, expect to see more big names in search of editorial independence (and boatloads of money) leaving corporate media and going rogue as well.
— —
>> Follow Joe Concha on Twitter @JoeConchaTV
Have a tip we should know? tips@mediaite.com