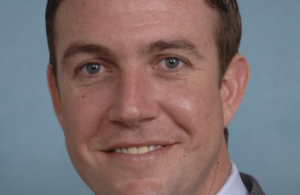 Are you saying to yourself, "What's going on in that headline? What does it even mean?"
Honestly, I don't blame you.
This all starts with California Congressman Duncan Hunter, who is a supporter of Donald Trump even though he has admitted he doesn't really agree with a lot of the things Trump says. You probably know Hunter as the congressman who was scolded like a child by high-ranking military officials when he tried to make a dramatic exit from a committee hearing after making a bunch of accusations against the officials. You might know him as the guy who made up a story about ISIS members being caught at the American border and suggested that there are radical Islamists in the military without being able to back that claim up.
Hunter, then, appears to be a guy who likes to take his ideas one step too far. When a story or theory pops into his head, Hunter seems almost physically incapable of not sharing it and, for whatever reason, commentators keep bringing him on their shows, giving him a convenient place to air out his latest ideas.
Yesterday, he was on Sean Hannity's radio show when he decided to talk about the ongoing drama in the Trump U fraud case. If you don't know, Trump has made some racially-motivated assertions about the judge overseeing the case.
Via Kfile, here is the audio:
Here is what he said:
What I like to do is take these arguments out to their logical extremes, so let's say that Chris Kyle, the American sniper, is still alive and he was on trial for something, and his judge was a Muslim-American of Iraqi descent. Here you have Chris Kyle, who's killed a whole bunch of bad guys in Iraq. Would that be a fair trial for Chris Kyle? If you had that judge there? Probably not. And Chris Kyle could probably say, "This guy's not gonna like me."
It takes quite a few mental contortions to get from the very real situation involving Trump and Judge Gonzalo Curiel to a hypothetical one involving the American Sniper and a Muslim judge, but Hunter is a man who has a bright future as a best-selling fiction author one day, so this is hardly groundbreaking for him.
[image via screengrab]
For more from Lindsey, head to Twitter or Facebook.
Have a tip we should know? tips@mediaite.com