Controversy Alert: Republican House Rep. Steve King Calls Obama "Very, Very Urban"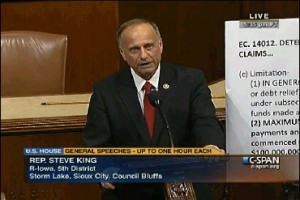 Rep. Steve King of Iowa just can't stop making racially charged statements. In June, he declared that President Obama "has a default mechanism in him that breaks down the side of race, on the side that favors the black person." In July, he questioned a class action lawsuit brought by black farmers against the USDA, implying that what the farmers really wanted were reparations. Today, he turned his focus back to Obama, calling the President "very, very urban"—and we all know what he means by "urban."
Some background: King was talking, again, about the Pigford case, the aforementioned class action suit. Here's a breakdown of the case, courtesy of our own Tommy Christopher:
The Pigford case is a class action lawsuit that was brought by black farmers after the USDA admitted it had been discriminating against black farmers for years. In essence, Clinton Secretary of Agriculture Dan Glickman said, "Hey, all you black farmers out there, remember when we denied you that loan? It was because you're black."

Black farmers, naturally, were like, "Oh, well, that's messed up. I could've saved/purchased my own farm with that loan. Pay me."

Shirley Sherrod was the leader of a group of farmers called New Communities, Inc., who were collectively awarded $13 million for the loss of 6,000 acres of land due to USDA's racial discrimination, and Sherrod was awarded $150,000, as was her husband Charles. Sherrod's work on behalf of black farmers in this case is precisely why she was hired by Vilsack, to help "turn the corner" on decades of discriminatory practices.

Track A of the Pigford settlement was structured so that a fixed payment of $50,000 would be awarded to any black farmer who could prove that he:

* owned or leased, or attempted to own or lease, farm land, applied for a specific credit transaction at a USDA county office during the applicable period
* the loan was denied, provided late, approved for a lesser amount than requested, encumbered by restrictive conditions, or USDA failed to provide appropriate loan service, and such treatment was less favorable than that accorded specifically identified, similarly situated white farmers.
* the USDA's treatment of the loan application led to economic damage.

Anyone who wanted to seek a larger amount would use "Track B," which had an even stricter burden of proof.
King's statement today began with the representative noting that "Bobby Scott of Virginia and others" introduced legislation aimed at increasing the federal government's role in the Pigford settlement. As Ryan Grim of the Huffington Post notes, Scott is African-American.
King then took aim at Obama, complaining that as a senator, he favored African-American farmers. "Figure this out, Madame Speaker," King said. "We have a very, very urban Senator, Barack Obama, who has decided he's going to run for president, and what does he do? He introduces legislation to create a whole new Pigford claim."
Yikes. It's also pretty strange that King would choose to use this particular euphemism while describing actions Obama took to help rural farmers. See King's statement in the video below, from C-SPAN.
[h/t Huffington Post]
Have a tip we should know? tips@mediaite.com