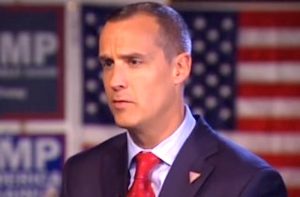 Shortly after President-elect Donald Trump won the election, his former campaign manager Corey Lewandowski ended his time as a political commentator for CNN.
It was thought at that time that he would be joining the incoming Trump Administration in some capacity, but that wasn't to be, with him instead starting a consulting firm. Seems he's also decided to go the TV route again — he is now working for One America News Network, a small conservative news channel.
According to The Daily Beast, Lewandowski actually started working at the station last week.
"He's working for us like he worked for CNN," Robert Herring, the CEO at One America News Network (who once offered the husband of Terri Schiavo a cool $1 million to give up the guardian rights of his brain-damaged wife over to her parents), told The Daily Beast in a brief phone interview on Thursday. "It started last week, but not exactly sure of the date."
The CEO wouldn't confirm any other details of Lewandoski's working arrangement, such as salary or whether he can work for other networks or outlets. Herring did talk up Lewandowski to the Beast, though, praising him for helping them get interviews in the past.
OANN is only available in a small percentage of available homes nationwide, but Herring calls them a "growing network." It is also the previous home to growing conservative media star Tomi Lahren, who worked there for a couple years before jumping to TheBlaze.
[image via screengrab]
–
Follow Justin Baragona on Twitter: @justinbaragona
Have a tip we should know? tips@mediaite.com