Ann Coulter Details Andrew Breitbart's $100,000 N-Word Challenge On CNN (Update)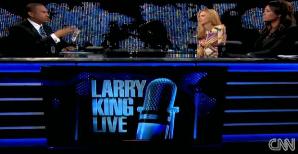 Tavis Smiley filled in for Larry King last night (more on that below), and one segment featured a somewhat heated interview with Ann Coulter and Aisha Tyler about the language of tea parties.
But it shifted later into a discussion of the health care bill protests and whether Rep. John Lewis' claim of being called the n-word was accurate.
The conversation started with Smiley's introduction: "President Obama's been called a socialist, a traitor, he's been called, as I've said to her, un-American. He's been compared to Stalin, he's been compared to Hitler with the mustache. The climate – what do you make of it?"
Tyler shifted the debate to whether Hitler was actually a conservative – a point that obviously got a reaction from Coulter. But later, Coulter brought up the claim that civil rights leader Rep. Lewis had been called the n-word during his walk to the Capital for the health care vote. "John Lewis is a genuine American hero, so I was curious to see what exactly he said," said Coulter. "And in the first New York Times article on this, I haven't read everything that's been written, I noticed that he himself did not claim that."
According to the initial CNN report on the incident by Dana Bash, she says that although no one from CNN saw it happen, Lewis himself did say he had been called the n-word. But without video, it is "Big"-sites founder Andrew Breitbart who has started a $100,000 challenge for anyone who can produce video of the word being used (he continues publicizing the challenge on Twitter). He, and Coulter, aren't saying it didn't happen – but they want proof. Maybe with King's audience someone will cash in and we can move on.
> Update: Media Matters points out something I got wrong about here: Breitbart has said it didn't happen – he actually called Rep. Lewis a liar.
Meanwhile, the Smiley fill-in was an interesting one – he has the objective anchor chops but also brings some point of view to his shows. He had a tough, but fair, interview with Rep. Michele Bachmann in last night's show as well. One other note, to CNN.com – stop putting edited, partial clips online. MSNBC.com allows you to embed just the parts you want, FoxNews.com puts the whole thing online. CNN.com goes a different, and frustrating route, picking the two minutes they think you want and ignoring the rest. What's the point?
Here's CNN's video of the segment:


—–
» Follow Steve Krakauer on Twitter
Have a tip we should know? tips@mediaite.com