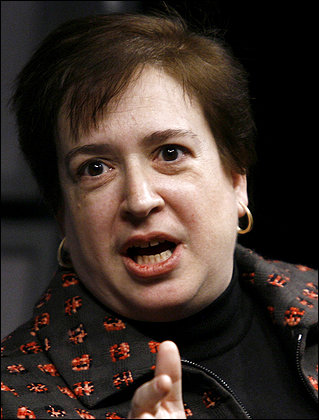 Yesterday, the CBS News website published a column that asserted that Solicitor General Elena Kagan – a leading candidate for the Supreme Court – is in fact gay. In the piece, former Bush administration aide Ben Domenech said that Kagan could potentially be the "first openly gay justice"; pleasing Obama's base. Howard Kurtz reports that an unidentified administration official "said Kagan is not a lesbian," and reports that Anita Dunn blasted CBS News for "posting lies."
Kurtz reports:
CBS initially refused to pull the posting, prompting Anita Dunn, a former White House communications director who is working with the administration on the high court vacancy, to say: "The fact that they've chosen to become enablers of people posting lies on their site tells us where the journalistic standards of CBS are in 2010." She said the network was giving a platform to a blogger "with a history of plagiarism" who was "applying old stereotypes to single women with successful careers."

The network deleted the posting Thursday night after Domenech said he was merely repeating a rumor. The flare-up underscores how quickly the battle over a Supreme Court nominee — or even a potential nominee — can turn searingly personal. Most major news organizations have policies against "outing" gays or reporting on the sex lives of public officials unless they are related to their public duties.
CBS News editor-in-chief Dan Farber eventually took the post down, and later apologized to Kagan, claiming that the column was based on innuendo and speculation, and adding "just got through our filters."
Later in the piece Kurtz quotes The Atlantic's Marc Ambinder who wrote of "a baffling whisper campaign" about Kagan "among both gay rights activists and social conservatives." It appears that the politics of selecting a Supreme Court justice has crossed over to sexual identity politics as well.
Have a tip we should know? tips@mediaite.com