CPAC Threatened to Ban Mediaite After Seb Gorka Complaint: 'The F*cking Thinnest of F*cking Ice'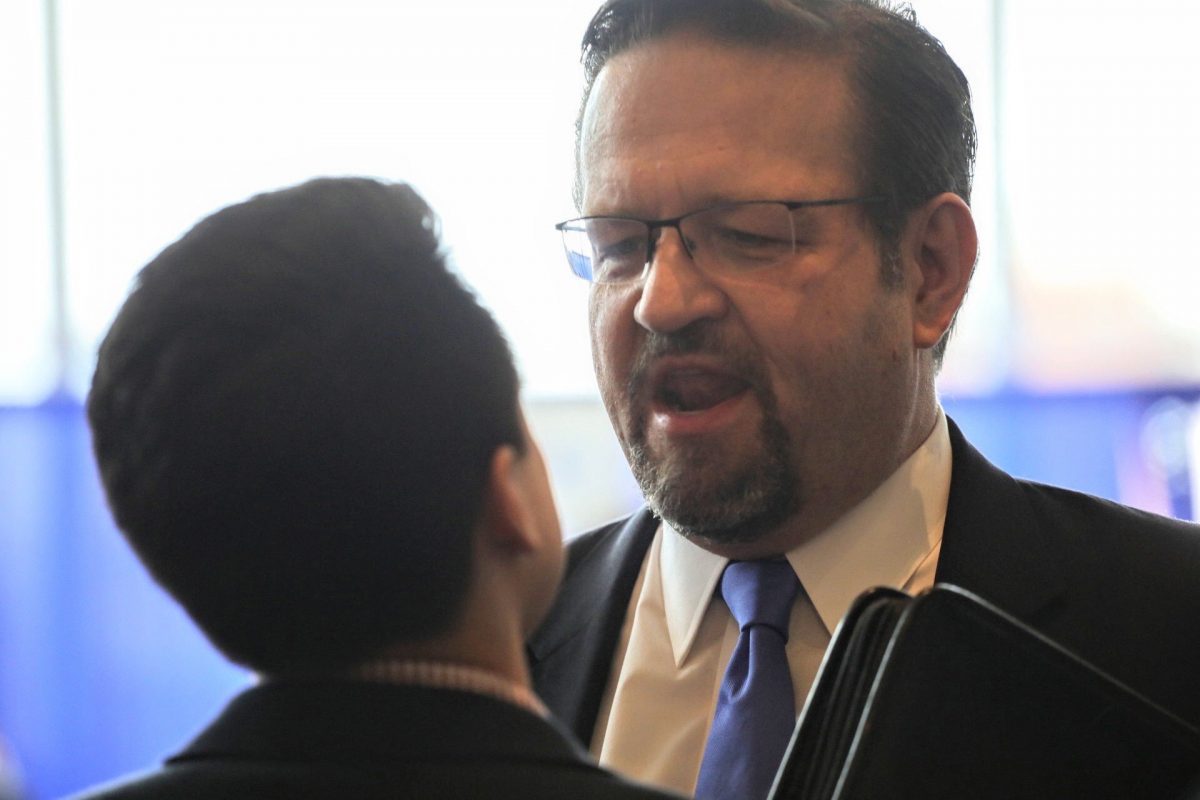 Conservative Political Action Conference organizers threatened to ban every Mediaite reporter after a private complaint from ex-White House official Seb Gorka, who was caught on video shoving this reporter at the right-wing gathering last year.
The saga started Thursday afternoon, while I was on a balcony at the National Harbor Gaylord Convention Center with journalist Jared Holt and Chapo Trap House co-host Felix Biederman. We were taking a Juul break and eagerly awaiting Diamond & Silk's set on the main stage when CPAC communications boss Ian Walters — famous for saying the RNC only "elected Mike Steele as chairman because he was a black guy" — approached me while flanked by four security guards.
"You're Caleb Ecarma from Twitter, right?" Walters asked as he swaggered up to us with a cigarette in hand, which he proceeded to smoke in our faces.
"That's me," I replied.
"So, why does your badge say Caleb Hunter?" he asked, confident that he firmly had me in a gotcha-moment.
Walters was uncomfortably close at this point, but I tried to inform him that Hunter is my middle name and the CPAC staff mistakenly used it as my last name on the press pass. He replied by insisting his team "does not make mistakes," before claiming "something else is going on here" and wildly accusing me of committing "fraud" by using a lanyard that didn't have my full name.
"I don't know what to tell you, they made a mistake," I said, adding that I didn't notice the error until after I left the media registration area but planned on getting it fixed.
He demanded to hear from my bosses to confirm my identity, a request I happily agreed to since I always make my editors deal with bullshit from flacks.
As I walked back to the media area to get my wallet and bag, I noticed three men from the CPAC security following me. They asked for my ID while questioning me in front of the media filing room. Once they realized my name is indeed Caleb Hunter Ecarma, they marched me down to the media registration room where I met Walters again.
I finally realized what this was all about when he pulled up a tweet describing me as "Caleb the Gorka 'Hunter.'" I explained that it was obviously a joke about Gorka pushing me at last year's CPAC and vowed that I did not actually plan on hunting him.
Caleb the Gorka "Hunter" pic.twitter.com/Dhbzldw2Bf

— Jared Holt (@jaredlholt) February 28, 2019
"Is this what you consider coverage of an event?" Walters grilled, pointing to someone else's tweet. He then accused me of "mocking" his "team's mistake" by allowing someone to document it.
"I've seen a lot of weird," he seethed while exiting the room to "figure out" some things. "You're part of the weird now."
Another staffer snapped at me to go sit "in the corner" with security. As can be seen below, Walters eventually returned a half hour later and pulled up a chair to question me.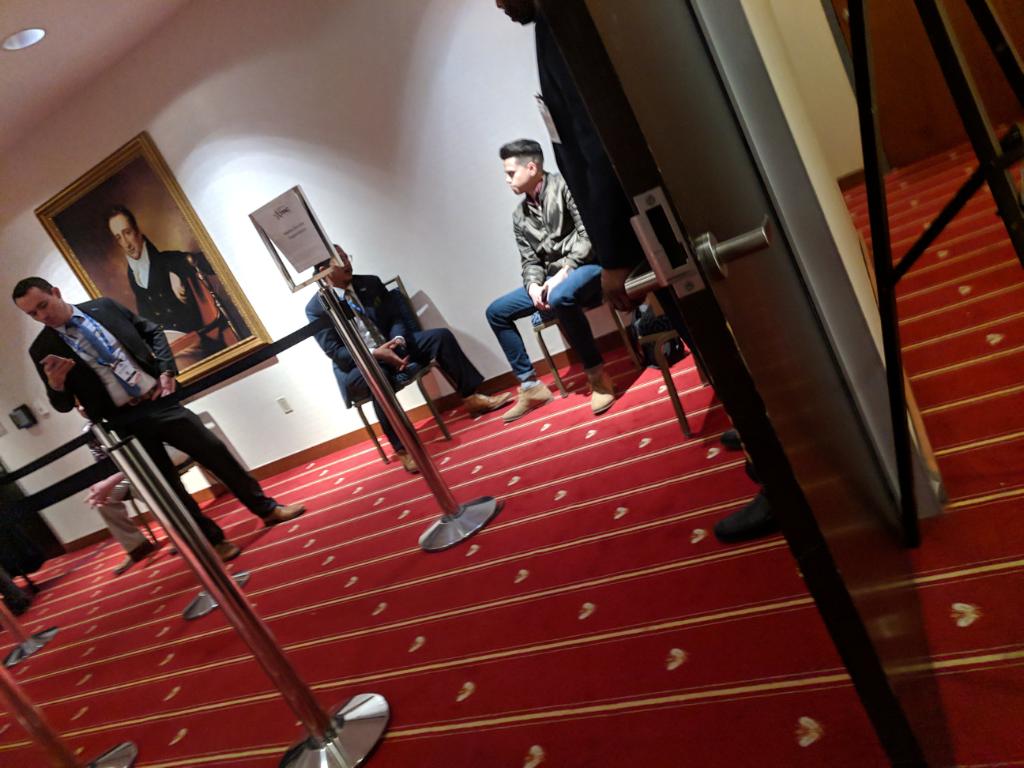 His interrogation method was both meandering and oddly specific. Walters read a few of my tweets and articles in front of me, before asking where I grew up, where I went to college, what my ethnic background is, and what denomination of Christianity I grew up in. I responded with quick answers and a few solemn "yes, sirs" — like I was talking to a badge, since Walters was exuding "powerful cop energy" as Felix Biederman later put it — before he finally got to the point.
"Gorka complained to me," he confessed.
"I don't know the full story, but I have been told by Gorka there are some allegations of stalking and harassment," Walters said, before explaining he was receiving numerous texts from attendees triggered by my presence.
"I won't have you disturbing our speakers and disrupting our event," he continued, adding that this was a "security concern."
Of course, the video of last year's encounter clearly shows Gorka getting physical with me while I attempt to ask him questions.
It's hard to hear, but @calebecarma tells me Gorka told him to "fuck off" and he won't talk to him because Caleb is "irrelevant." pic.twitter.com/ewaBsqrqbz

— Max Tani (@maxwelltani) February 22, 2018
It's unclear what prompted Gorka to recall last year's incident — maybe it was my report on his fake Fox News business cards, maybe he's still mad at my tweet about his toy "EcoBoost" Mustang — but he convinced Walters I was there "to get another video."
"[You] pulled a prank, performance art," Walters claimed. "Part of me thinks you came back for a repeat performance."
Unprompted, he then dove into a patronizing spiel about the "trust" needed between "flacks like me and reporters like you," insisting that without that, "everything falls apart." In this case, that "trust" meant remaining mum on Walters' threats to boot me and avoiding Gorka during the event.
"I won't be discussing this with any of my colleagues," Walters said, which I understood as a directive to stay quiet about our conversation.
After finishing up a rant about "journalism ethics" and "the fog of war" in political reporting, Walters demanded I look him "in the eyes" for an extended period of time while he explained how this could be "a teachable moment" for me in learning how media works, since I'm just a "22-year-old kid."
We eventually shook hands after he was done staring through my eye-sockets and I was given a replacement pass, but not before Walters could add that I was "on the fucking thinnest of fucking ice." He later pulled me aside as I was leaving the building to raise his finger at me and threaten to kick out "every fucking person from Mediaite" if I do anything he doesn't like.
Walters warned that he'd be monitoring my coverage and activity, but didn't approach me the rest of the conference.
As for Gorka, he angrily huffed something under his breath as we brushed shoulders in a hallway, the day after Walters begrudgingly returned my press pass. I asked Gorka what he said but he scurried into a crowd, which I assume means we finally squashed the beef.
[featured image via Jared Holt/Right Wing Watch]
Have a tip we should know? tips@mediaite.com