CQ Reporter Interviews Some Random Congressman, Thinks He's House Majority Leader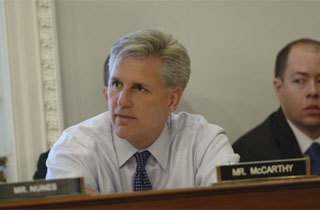 Yesterday, Congressional Quarterly ran an exclusive interview with House Majority Leader Kevin McCarthy (R-CA), but removed it this morning after it was revealed that the reporter actually talked to some random Congressman, thinking he was McCarthy.
After McCarthy told Politico that he'd never sat down for an interview, the CQ piece was immediately removed and replaced with a correction. Sources said that reporter Amrita Khalid, who'd been working on CQ's Legislative Action beat for a year, had confused the two congressmen, despite the facts that McCarthy is "one of the most recognizable congressmen in Washington, constantly surrounded by a phalanx of police officers." (For the record, that is a photo of McCarthy above, in all of his silvery glory. His name is on a placard, just to make it doubly clear.)
Had the mystery congressman pretended that he was McCarthy, that would be one thing, but apparently he hadn't:
It was clear from the content of the interview that whoever Khalid was talking to was not McCarthy. The interview subject said he got to Congress in 2011 –- McCarthy got to D.C. in 2007. The interview subject also speaks about the House leadership as if he is not in it.

"That is a good model for how our leadership should approach things," the interview subject said in the interview. "Just because they've got a plan as to how they want to get something done [we should still] engage the conference as a whole. That is always healthy for the conference if we do it properly."
This is a good time to announce that Mediaite will be running an exclusive interview with Barack Obama next week, who we met while he was singing "Never Gonna Give You Up" in a trench coat.
[Politico]
[Image via Rep. Kevin McCarthy]
—
>> Follow Tina Nguyen (@Tina_Nguyen) on Twitter
Have a tip we should know? tips@mediaite.com