The Insulting Spanish-Language Obamacare Site and the Democrats' Minority Problem
Rothman: The Insulting Spanish-Language Obamacare Site and the Democrats' Minority Problem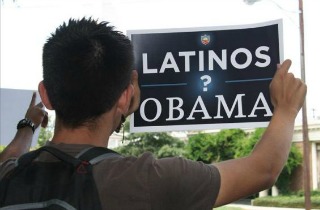 Democrats know that Republicans have a "minority problem." Democrats know that neither Sen. John McCain (R-AZ) nor former Massachusetts Gov. Mitt Romney were able to secure the minimum threshold of support from Hispanic voters required for a Republican presidential nominee to reach the White House. Democrats know that Republicans often appeal to rhetorical devices like "self-deportation" which turn off a number of Hispanic voters. Finally, Democrats know that President Barack Obama's minority electoral coalition is a permanent coalition and, if nothing else, their party represents a preferred alternative to a Republicans who they believe in their hearts must pander to a racially insensitive base.
And if Republicans had masterminded the Spanish-language version of HealthCare.gov, CuidadoDeSalud.gov, they would be certain that it represents another in a long line of insults the GOP has hurled toward the nation's Hispanic community. Democrats would know that the site's apparent use of a translation engine to instruct America's 45 million Spanish speakers how to enroll in the Affordable Care Act is indicative of a larger, more endemic antipathy for the nation's minority community.
CuidadoDeSalud.gov was, however, the brainchild of the Obama White House, so these fundamental truths escape the Democratic political class and their allies in the press. This latest insult has led in the minority community, even those who charitably describe the Spanish-language federal insurance exchange site as having been translated into "Spanglish," to ponder just how pivotal they really are to Democrats' political futures.
New Mexico University political science professor Gabriel Sanchez told the Associated Press that Hispanics are unlikely to shrug off the insultingly ignorant website. "They will look at this, and think, 'Man, they really don't care about us,'" Sanchez said.
That's a quote that would rock the political establishment and provide the press with the impetus to insist that Republicans must consent to passing an immigration overhaul with an eye towards extending citizenship towards the nation's 11 million illegal immigrants – about the only issue the media concerns itself with when it comes to the everyday problems faced by America's ethnically and geographically diverse Latino demographic.
And rather than express contrition and regret over this slight against the Hispanic community, the White House addressed the controversy over CuidadoDeSalud.gov by attacking the reporters who uncovered its problems. "To some extent that story would be a little over-torqued," a White House official said on Monday when asked to respond to the controversy.
A follow-up email from the White House included their insistence that they did not use a translation engine when populating the Spanish-language site with content, thus dismissing the only logical reason for the debacle and leading observers to conclude that crass disregard for Latinos must be responsible for the oversight.
These repeated insults to Hispanics in deed, not word, are never internalized by the press or by the Democratic political class. They know that the Hispanic voting bloc — monolithic and uniform — is just another Democratic constituency. Some might go so far as to call this kind of hubris a "minority problem."
[Photo via EFE]
— —
> >Follow Noah Rothman (@NoahCRothman) on Twitter
Have a tip we should know? tips@mediaite.com