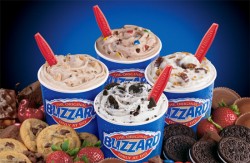 Last week, Deianeira Ford took her kids to the local Dairy Queen in Zion, Illinois. She noticed that their order was filled with various mistakes, and when she attempted to get them rectified, the owner, James Crichton, refused. He was willing to give her a refund, but in the midst of this, he started calling Ford and her children the "N-word." Within a few days, Ford posted about the incident on Facebook and the story picked up enough steam locally that Critchton closed to avoid the throng of protestors outside. It continued escalating until Dairy Queen took the step of revoking Crichton's franchise rights, shuttering the restaurant.
"He took out his flip phone and he said he would take a picture and put it on Facebook because he wants to show the world what kind of n—-rs he has to deal with," she told the Washington Post. "Then he shut the window and walked away." That was awful enough, but she broke moments later when one of her kids chimed in. "My daughter is 3. She's a little sponge; she repeats everything," she said "She asked me: 'Mommy, we n——rs?'
Upset and unsure what to do, she called 911.
When the story first got media attention. Crichton told the Lake County News-Sun that Ford's story was "99% lies." However, he had already said the opposite to the police who responded to Ford's call.
"Crichton boastfully told me he would be happy to go to jail over the issue and proudly admitted to calling Ford a n—-r," reads the police report, which the Washington Post obtained. Crichton also said that he is "fed up with black people" and, while talking to police, "he used the word 'n—-r' freely to describe black people." But that's not against the law.  Zion Police Chief Steve Dumyahn told the Post that "while this alleged activity is deplorable, it is not criminal." It was at that point that Ford took to Facebook. Her post got thousands of shares, catching the eye of Dairy Queen corporate. They condemned Crichton's statements and got an apology from him before finally making the call to cut bait on Friday.
While Ford's lawyer is trying to determine if there was a pattern that Dairy Queen corporate ignored, Ford herself is trying to figure out the best way to explain what happened to her three year-old. "I [told her] some people are just mean. Some people don't have good hearts."
Have a tip we should know? tips@mediaite.com