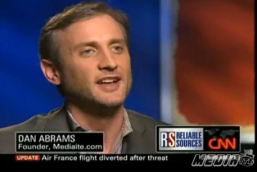 Earlier this week Mediaite celebrated its one year anniversary and it's hard not to argue that the site has a lot to celebrate. In recognition of that our publisher Dan Abrams talked to Howie Kurtz on CNN's Reliable Sources this morning about the site's success, why Dan decided to start a media site at such a difficult time in the industry, and whether the push for ideological cable hosts is a good thing.
I think there's enormous opportunity on the web…to make money, to create content. I mean the idea that you can kind of put down a flag in an industry and become a leader in that industry if you do it well — you weren't able to do this in media before. You used to have to have enormous amounts of money to start a media company, to start a magazine….now you can do all of that on the web with a much more limited budget and a lot more freedom, so I love it.
On Mediaite's quick success ("3 million visitors a month"):
I think what noone else had quite been doing is treating media leaders as important and almost celebrities….when anyone from Glenn Beck, to Rachel Maddow, to Katie Couric says something public about an issue, or a contentious interview…but the point is it's not just about them as interviewers it's about them as thought leaders. And I think that's what's made Mediaite a little bit different.
Dan also reflects on speed versus analysis when it comes to posting news items, and weighs in on the direction cable news is taking — including both MSNBC and CNN — and the rise of ideological shows on cable TV. Watch below.
Have a tip we should know? tips@mediaite.com