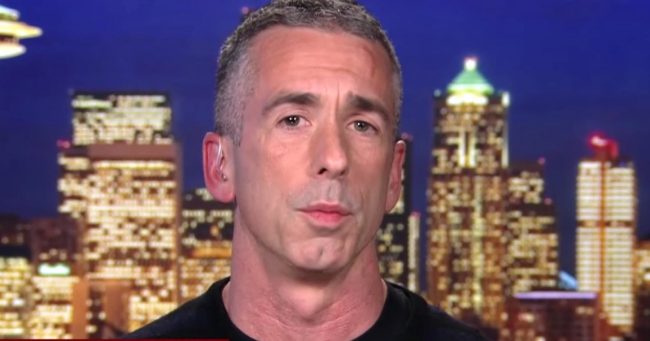 Far-left columnist Dan Savage, who has been celebrated as an "anti-bullying" activist, showed off his true, vile colors yet again in his latest podcast with an extended diatribe against First Lady Melania Trump.
Savage bluntly revealed, "I f**king hate Melania Trump," and decried Mrs. Trump as a "birther," an "immigrant who doesn't give a s**t about the plight of other immigrants," and a plagiarist. He also played up how the former model has brought "ruinous lawsuits" against journalists.
Kristine Marsh of Media Research Center's NewsBusters blog pointed out that Savage even wondered if you could "impeach" the presidential wife, despite the fact that she doesn't hold an actual public office: "I don't know if you can impeach a first lady or how that would work." The podcast host then contended that if Michelle Obama had conducted herself in a similar manner, conservatives would have sought Mrs. Obama's impeachment.
Savage has no shame in launching such attacks (and much worse) on conservatives/Republicans, all the while while posing as a champion for the bullied. Most notoriously, he went after former Senator Rick Santorum by ruining his Google search results. Savage used the same vulgar "suck my d**k" retort to two black conservatives who spoke out against homosexuality — Herman Cain in 2011, and Ben Carson in 2015.
The columnist is also blatantly anti-Catholic. He attacked the Church as a "criminal organization," and wildly insulted Pope John Paul II as a child molester. Savage blasted the Polish pontiff's successor, Pope Benedict XVI, when he abdicated in 2013: "That Motherf**king Power-Hungry, Self-Aggrandized Bigot In the Stupid F**ing Hat Announces His Retirement."
Later that year, he unleashed against the Church's stance against contraception: "Vatican City has a single-payer healthcare system. It covers everything but birth control because altar boys can't get pregnant. When altar boys start getting pregnant, they'll cover birth control too." The left-wing activist also targeted Mormons, along with Catholics, in October 2013: "The Mormon church has always taken the position that sex is for creating more worshipful, zombie-eyed followers for Jesus." (Savage's anti-Catholicism has even been incorporated into The Real O'Neals sitcom on ABC, where he serves as an executive producer.)
It should come as no surprise, then, that the columnist has unleashed his usual bile at Melania Trump, given this long track record of hate towards anyone who isn't part of the radical left.
This is an opinion piece. The views expressed in this article are those of just the author.