David Axelrod On Newt Gingrich: 'The Higher A Monkey Climbs On A Pole, The More You Can See His Butt'
Axelrod On Gingrich: 'The Higher A Monkey Climbs On A Pole, The More You Can See His Butt'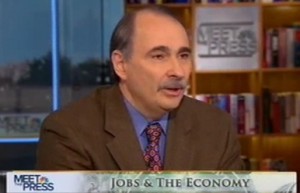 In a bad sign for Massachusetts Gov. Mitt Romney's presidential hopes, senior Obama campaign strategist David Axelrod set his sights on current GOP frontrunner Newt Gingrich today, a rare deviation from their constant whipping of Romney. At a press conference at the DNC, Axelrod told reporters "the higher a monkey climbs on a pole, the more you can see his butt.' So, you know, the Speaker is very high on the pole right now and we'll see how people like the view."
Axelrod & co. didn't completely snub Romney, telling reporters that the fading former Governor is out of step with an energized Tea Party base, but that he deserves credit for trying. " He's done everything but light himself on fire for the last eight weeks trying to win," Axelrod said.
But he quickly turned his attention to former House Speaker Newt Gingrich, who is polling higher than any previous frontrunner this year. The Chicago Sun-Times' Lynn Sweet reports:
"Now Newt is back. Last week you all left him for dead at the checkout counter at Tiffany's and now he's back, a lion in winter," Axelrod quipped. "That's L-I-O-N by the way, I don't want to stir up any trouble here."

The Obama team has been tying Gingrich to the Tea Party movement, and Axelrod reinforced this messaging at the briefing.

"In certain ways [Gingrich] fits the role for this, because as we pointed out earlier in the week he is the original tea partier. You know, he brought that kind of politics to Congress in the early 90s, he led three government shut downs in order to try and roll back environmental protection…roll back the Department of Education and education programs, he wanted to cut Medicare, he wanted to give more tax cuts to the wealthy. He was really a forerunner of what we see today."

Axelrod also noted that Gingrich has a long record that will be scrubbed and scrutinized.

"So the question is, can he sustain this over time?," Axelrod said.

"I told my colleagues yesterday a bit of homespun wisdom that I got from an alderman in Chicago some years ago when one of his …colleagues wanted to run for higher office and he was really dubious. He said, 'just remember the higher a monkey climbs on a pole, the more you can see his butt.' So, you know, the Speaker is very high on the pole right now and we'll see how people like the view."
Axelrod's remarks seem to be aimed more at a general election audience than at the conservative base, for whom shutting down the government and gutting environmental regulations are features, not bugs. Still, the President's reelection effort has been pretty much unwavering in its attention to Mitt Romney thus far, an obvious indication that he was the candidate they least wanted to face, and felt was most likely to win the nomination. The fact that the Obama campaign feels they have the breathing room to take shots at Newt Gingrich is bad news for Romney.
Have a tip we should know? [email protected]