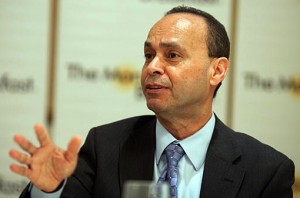 The jury in the George Zimmerman trial came back with a not guilty verdict, but the case didn't end there. The Department of Justice is considering leveling civil rights charges against Zimmerman, as Eric Holder confirmed yesterday, and now Congress may also be looking into the case to. Democrat Luis Gutierrez sent a letter to House Judiciary Committee chairman Bob Goodlatte requesting that they hold hearings on both the specific case of Trayvon Martin's death and the issue of gun violence in general.
RELATED: Maddow Blasts 'Fox News World' For Faux 'Outrage' Over DOJ's Role In Anti-Zimmerman Protests
According to The Hill, Gutierrez said last year that the shooting "undermines the rule of law," and yesterday asked the House Judiciary Committee to hold hearings on the case to ensure some form of justice is done.
When any child is gunned down and no one goes to jail, it is incumbent on lawmakers at the highest level of government to investigate whether justice has been done, whether the underlying law is just, and whether federal legislation could help avoid another tragic death like the death of Trayvon Martin. I respectfully request that the House Judiciary Committee hold hearings as soon as possible to examine these questions further.
Gutierrez says there are still "questions left unanswered" by Zimmerman's acquittal, especially regarding the overall issue of gun violence, and his letter calls out the House Judiciary Committee for "scarcely" discussing the issue. Gutierrez introduced a bill in Congress a few months ago to ban "junk handguns."
—–
Follow Josh Feldman on Twitter: @feldmaniac
Have a tip we should know? tips@mediaite.com
Josh Feldman - Senior Editor