Dem Senator's Office Pushed Hard to Get State Agency to 'Trash' Obamacare Cancellation Figures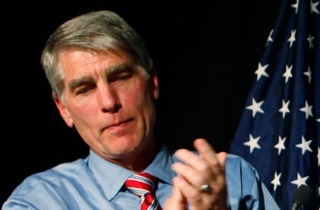 According to a report, staffers working for Sen. Mark Udall (D-CO) pushed hard on the Centennial State's regulatory agencies to revise the definition of what constitutes a cancellation message from insurance companies as a result of the implementation of the Affordable Care Act.

According to emails obtained by Complete Colorado, the Colorado Division of Insurance (DOI), Director of External Affairs, Jo Donlin, said that she "received a very hostile phone call from Udall's deputy chief of staff" relating to the politically damaging number of cancellation notices.
"Sen. Udall says our numbers were wrong," Donlin wrote to her colleagues at the Colorado Department of Regulatory Agencies. "They are not wrong."
Cancellation notices affected 249,199 people. They want to trash our numbers. I'm holding strong while we get more details. Many have already done early renewals. Regardless, they received cancellation notices.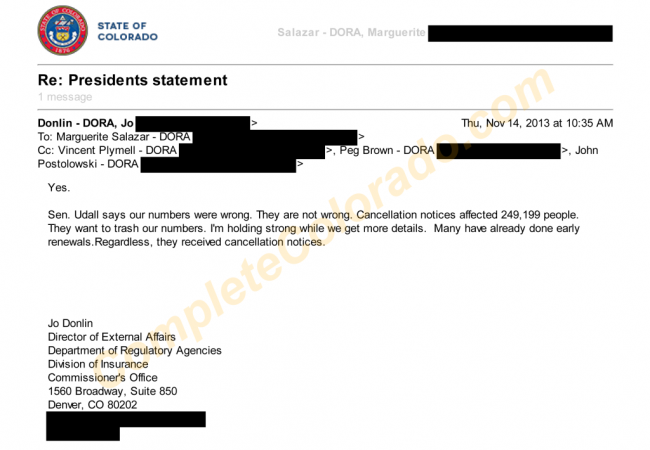 This email was not well-received by Udall's office, currently navigating a difficult political environment as the Democratic Senator prepares for a tough reelection bid in November. Donlin circled back with her colleagues after she sent that email to note that Udall's office became "hostile" with her following her email.
"Following my e-mail, I received a very hostile phone call from Udall's deputy chief of staff. [Insurance Commissioner] Marguerite [Salazar] is on the phone with [Udall's] chief of staff right now. Happy Friday!"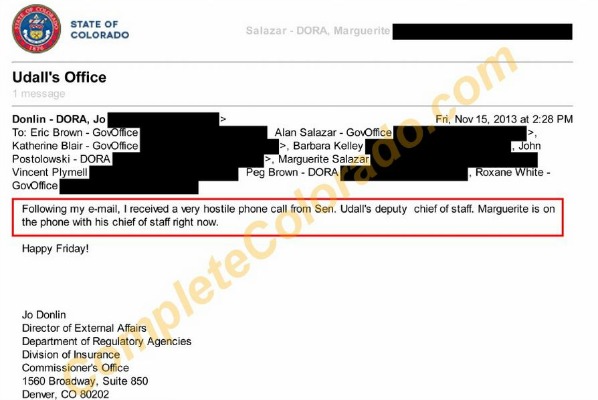 "We need to move on this ASAP – or we'll be forced to challenge the 249K number ourselves," Udall staffer Joe Britton urged in a subsequent email. "It is wildly off or at least very misleading and reporters keep repeating it."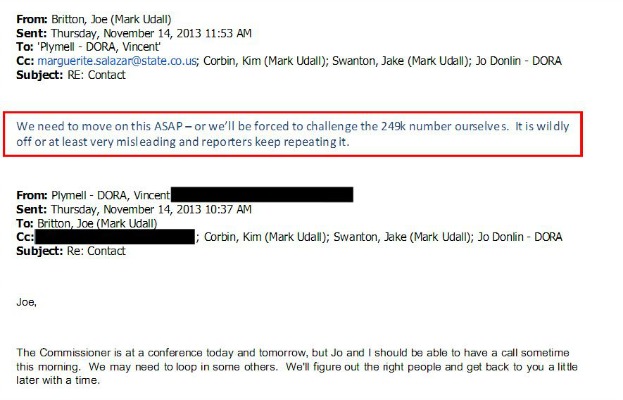 Complete Colorado notes that their requests for comment from Udall's office were not returned as of the publication of these emails on Wednesday.
Read the full report via Complete Colorado
UPDATE: James Owens, press secretary for Sen. Udall, reached out to Mediaite on Thursday to offer context for the spat that evolved out of the Senator's office's attempt to challenge the number of health insurance policy cancellations that resulted from the Affordable Care Act's implementation.
Owens says that, after noticing a higher proportion of cancellations than other states, Udall's office found that of the 250,000 individually insured who lost their policy, only 13,000 were not offered a new policy from the same insurer. While Owens was unable to confirm the costs of the replacement plans that were offered the newly uninsured, he says that Udall's office found it misleading to say that a quarter of a million Colorado residents lost their coverage without noting that they were offered a replacement policy.
As for the nature of the conflict that arose when Udall's office pushed back on Donlin, Owens said that this was not an unusual occurrence. "There was a disagreement as to how to characterize these numbers and this disagreement just became public," Owens told Mediaite. "Nothing out of the ordinary there."
[Photo via Ed Andrieski/AP]
— —
> >Follow Noah Rothman (@NoahCRothman) on Twitter
Have a tip we should know? tips@mediaite.com