Democratic FL Gov. Candidate Alex Sink Called Out For Breaking Rules During CNN Debate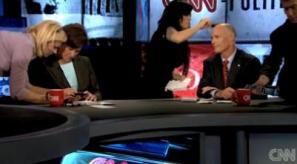 Last night's Florida Gubernatorial debate between Alex Sink and Rick Scott aired on CNN and was moderated by John King, but the most interesting moment came off-air.
CNN cameras caught a Sink aide showing some notes to the candidate during a commercial break (a violation of debate rules), which Scott mentioned on air – and got the aide fired.
A make-up artist passed the note, via wireless device, to Sink, which apparently said, "The attorney who [w]on the Sykes suit said alex sink did nothing wrong. Tell not to let him keep talking about her."
CNN reports "the Sink campaign released a statement from the candidate announcing that the advisor who sent the message has been removed from the campaign." Of course, even in admitting error, the campaign had to get in a political shot: "It was out of anger with Rick Scott's repeated distortion of facts," said Sink in the statement.
The note-passing was noticed immediately by Scott, who you can see from the video below makes a comment about it. "So we can get notes?" he asks someone on set. "We can get someone who works for us to give us messages?"
When CNN came back from commercial break, King asked the next question, but before answering Scott made a reference to the note. "First, Alex – you say you always follow the rules, the rule was no one is supposed to give us messages during the break, and your campaign did with an iPad, or iPod," said Scott. (CNN notes: "For the record, the device Sink read from was neither an iPad nor an iPhone but a Droid smartphone.")
What other strange things can happen in the week before the election? Check out the commercial break and moment right after:


—–
» Follow Steve Krakauer on Twitter
Have a tip we should know? tips@mediaite.com