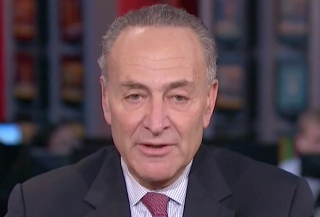 Yesterday, Sen. Chuck Schumer (D-NY) criticized the Democrats for passing Obamacare rather than fix the economy, therefore losing the Congress, and that they "must embrace government" in order to retake the Congress. Needless to say, his fellow Democrats are furious.
Multiple Democrat sources told Politico that Schumer was now Dead To Them, since his comments came right after several Congressional Democrats lost their seats for voting for the controversial health care bill. "What exactly does Chuck Schumer believe was the error?" former speechwriter Jon Lovett told Politico. "Does he believe that the goal of winning office is winning office?"
Despite the fact that Schumer was consistently hesitant about Obamacare since 2009, his statement, made during a speech in Washington, stung no less:
"It's a gut punch for a member of leadership who's supposed to be our message guy to throw his colleagues under the bus like this purely for self-promotion," said a senior Senate Democratic aide after Schumer's speech. "There's no question the politics of ACA have been challenging, but millions of people now have health care who didn't have it before and that's something Democrats should be proud of and working together to defend – not using as a backboard to score cheap self-promotional points."
Perhaps unsurprisingly, Sen. Elizabeth Warren (D-MA) agreed with Schumer: there "was an urgent need in 2009 and 2010 to help middle class families who were struggling to get by and that more should have been done," she said through a spokeswoman.
[Politico]
[Image via screenshot/CNN]
—
>> Follow Tina Nguyen (@Tina_Nguyen) on Twitter
Have a tip we should know? tips@mediaite.com