Deranged Racist NFL Fans And Pamela Geller Flip Out Over President Obama's CT Shooting Vigil Speech
Deranged Racist NFL Fans Flip Out Over Obama's CT Shooting Vigil Speech
A few weeks ago, sportscaster Bob Costas rebuked people who require tragedy to gain a sense of "perspective" about football, and this past Sunday night, we found out who those people are. When President Obama delivered remarks at a vigil for those slain in Friday's horrific crime, all of the networks preempted their regular program to carry the speech, including NBC's Sunday Night Football. The sports blog Deadspin has collected a series of tweets from NFL fans who vented venomous, mostly-racist outrage about the tragic mass murder in Connecticut… and how it was intruding on their football-viewing pleasure. Right-wing Omniphobe Pamela Geller also made piehole emissions.
The collected tweets offer a window into the "minds" of the awful people of America. Here's a small sampling, with the n-word redacted: (you can see the rest here)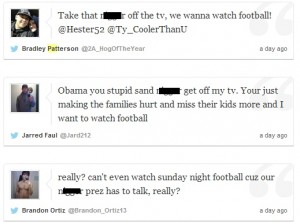 Obama Derangement Syndrome is alive and unwell, and doesn't stop at the NFL. Wonkette points out that there were even people who bitterly denounced the President for making them miss Fox animated sitcom Bob's Burgers: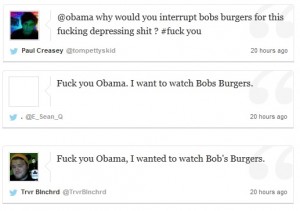 Not that it matters, but neither President Obama, nor the grieving residents of Newtown, Connecticut, have any say in the programming decisions of major television networks, or of the National Football League. NBC was right to preempt the game, but you have to wonder why the NFL didn't just take a 20-minute break at that point in the game. That's the "perspective" Costas was talking about, once again.
There were also several right-wing personalities, including Newsbusters' Dan Gainor, who couldn't resist taking potshots at the President as he tried to comfort the residents of Newtown. The best point was made by right-wing patriot Pamela Geller, who noted:
But not for Fort Hood. RT @raushenbush: Obama reading the names – absolutely devastating
Yes, because what's really important this week is that we fill out our mass-shooting memorial scorecards. If that's your game, Ms. Geller, then you could at least get it right. From President Obama's remarks at the Memorial Service at Fort Hood, November 10, 2009: (transcript via email from The White House)
Neither this country — nor the values upon which we were founded — could exist without men and women like these 13 Americans. And that is why we must pay tribute to their stories.

Chief Warrant Officer Michael Cahill had served in the National Guard and worked as a physician's assistant for decades. A husband and father of three, he was so committed to his patients that on the day he died, he was back at work just weeks after having had a heart attack.

Major Libardo Eduardo Caraveo spoke little English when he came to America as a teenager. But he put himself through college, earned a PhD, and was helping combat units cope with the stress of deployment. He's survived by his wife, sons and step-daughters.

Staff Sergeant Justin DeCrow joined the Army right after high school, married his high school sweetheart, and had served as a light wheeled mechanic and satellite communications operator. He was known as an optimist, a mentor, and a loving husband and loving father.

After retiring from the Army as a major, John Gaffaney cared for society's most vulnerable during two decades as a psychiatric nurse. He spent three years trying to return to active duty in this time of war, and he was preparing to deploy to Iraq as a captain. He leaves behind a wife and son.

Specialist Frederick Greene was a Tennessean who wanted to join the Army for a long time, and did so in 2008, with the support of his family. As a combat engineer he was a natural leader, and he is survived by his wife and two daughters.

Specialist Jason Hunt was also recently married, with three children to care for. He joined the Army after high school. He did a tour in Iraq, and it was there that he reenlisted for six more years on his 21st birthday so that he could continue to serve.

Staff Sergeant Amy Krueger was an athlete in high school, joined the Army shortly after 9/11, and had since returned home to speak to students about her experience. When her mother told her she couldn't take on Osama bin Laden by herself, Amy replied: "Watch me."

Private First Class Aaron Nemelka was an Eagle Scout who just recently signed up to do one of the most dangerous jobs in the service — diffuse bombs — so that he could help save lives. He was proudly carrying on a tradition of military service that runs deep within his family.

Private First Class Michael Pearson loved his family and loved his music, and his goal was to be a music teacher. He excelled at playing the guitar, and could create songs on the spot and show others how to play. He joined the military a year ago, and was preparing for his first deployment.

Captain Russell Seager worked as a nurse for the VA, helping veterans with Post-Traumatic Stress. He had extraordinary respect for the military, and signed up to serve so that he could help soldiers cope with the stress of combat and return to civilian life. He leaves behind a wife and son.

Private Francheska Velez, daughter of a father from Colombia and a Puerto Rican mother, had recently served in Korea and in Iraq, and was pursuing a career in the Army. When she was killed she was pregnant with her first child, and was excited about becoming a mother.

Lieutenant Colonel Juanita Warman was the daughter and granddaughter of Army veterans. She was a single mom who put herself through college and graduate school, and served as a nurse practitioner while raising her two daughters. She also left behind a loving husband.

Private First Class Kham Xiong came to America from Thailand as a small child. He was a husband and father who followed his brother into the military because his family had a strong history of service. He was preparing for his first deployment to Afghanistan.

These men and women came from all parts of the country. Some had long careers in the military. Some had signed up to serve in the shadow of 9/11. Some had known intense combat in Iraq and Afghanistan, and some cared for those did. Their lives speak to the strength, the dignity, the decency of those who serve, and that's how they will be remembered.

For that same spirit is embodied in the community here at Fort Hood, and in the many wounded who are still recovering. As was already mentioned, in those terrible minutes during the attack, soldiers made makeshift tourniquets out of their clothes. They braved gunfire to reach the wounded, and ferried them to safety in the backs of cars and a pickup truck.

One young soldier, Amber Bahr, was so intent on helping others, she did not realize for some time that she, herself, had been shot in the back. Two police officers — Mark Todd and Kim Munley — saved countless lives by risking their own. One medic — Francisco de la Serna — treated both Officer Munley and the gunman who shot her.

It may be hard to comprehend the twisted logic that led to this tragedy. But this much we do know — no faith justifies these murderous and craven acts; no just and loving God looks upon them with favor. For what he has done, we know that the killer will be met with justice — in this world, and the next.
Have a tip we should know? tips@mediaite.com