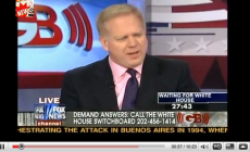 Glenn Beck's head may finally explode tonight. From glee. If you've been watching Beck at all recently you know that he has spent the better part of the last two weeks tearing apart President Obama's Special Advisor for Green Jobs Van Jones. Last night Beck added 9-11 Truther (Truthers vs. Birthers should be some sort of reality show) to the chalk board list of things the public should be concerned about regarding Jones (video below), after it was revealed yesterday that Jones signed a petition back in 2004 which called for an investigation into whether the government was involved in 9-11. But it's the fact that Jones has now responded to that petition going public, which will no doubt be enough fuel to keep Beck's fire going for the next little while. Per ABC's Jake Tapper:
In a statement issued Thursday evening Jones said of "the petition that was circulated today, I do not agree with this statement and it certainly does not reflect my views now or ever."
Is it possible Beck's relentless attention will force the White House to eventually deal with this officially? Is Beck capable of bringing down a government official? Doubtful, but nevertheless, beware the chalkboard!
Also from Tapper, some background:
With a history of incendiary and provocative remarks, many of them dealing with his view of how whites exploit minorities, Jones has emerged as the subject of much conservative scrutiny in recent days, particularly from Fox News' Glenn Beck. (Jones defenders point out that most of Beck's criticism came after a group Jones helped found, Color of Change, began pushing advertisers to boycott Beck after he accused President Obama of being a racist.)
Have a tip we should know? tips@mediaite.com