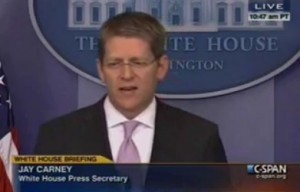 On the heels of Vice President Joe Biden's alleged rogue-going on gay marriage, and Secretary of Education Arne Duncan's actual expression of support for marriage equality, White House Press Secretary Jay Carney parried another round of heated questioning on the President's "evolution."
Carney and his predecessor have consistently expressed a reluctance to "make news" on the subject, but ABC News' Jake Tapper may have shaken something loose.
Tapper expressed some of the frustration that many of us feel about beating our heads against the gay marriage "evolution" wall. Often, being a White House reporter is like being a scientist: you run the same experiment over and over again, changing the variables ever so slightly, and watch for any deviation in the result. In this case, I think I caught a minute reaction to Tapper's application of force.
As I've said before, no one believes that President Obama is actually "wrestling with" anything. It is my firm belief that when President Obama first made his remarks about "constantly evolving," he had already circled the date on his calendar when he would announce to the world that his hot, sweaty wrestling match with that gay marriage demon was over, and he was ready to come out in full support of marriage equality. The real question has always been about when that will happen, not if.
I have always been certain that moment would come at some point during the campaign, probably during the Democratic National Convention. In formulating his question to Carney, though, Tapper said that the constant "not going to make news" refrain suggests that "there is news there, and you guys are just waiting for the proper time to drop it, likely after November."
Carney responds "I think that's your characterization, Jake," which was a reaction to "there is news there," but which I also believe was a reaction to the suggestion that the President won't make any announcement about this until after the election. It was subtle, but I think the timing of Carney's interjection indicates that it was prompted by Tapper's post-election time frame. Carney also notably didn't try to tamp down expectations of a pre-election evolution rollout, in contrast to a briefing last June when he said he "didn't anticipate" any such announcement during his speech at the annual LGBT Leadership Council Gala.
Am I reading too much into this? Maybe, but we've been at this a long time. The fact that I've sat through a million of these questions before could mean that my intuition here is sharp, or it could just mean I've been staring at the horizon for too long. We'll see.
Tapper also asked Carney to spare him the "same 15 talking points" about the President's record on LGBT rights, a remark that Carney amusingly used to regain the moral high ground. "Talking points to you; serious substantial rights to others.  Okay?" Carney said, adopting a serious tone. ""Don't ask, don't tell' — repealing 'don't ask, don't tell' is a serious matter.  The efforts that this administration has taken on behalf of LGBT citizens are serious matters."
He revisited the theme while responding to CBS News' Norah O'Donnell. "I think that it's important to remember when we talk about those accomplishments under this administration that they are far more than talking points; they are considerable, serious demonstrations of progress, important progress — progress that others would take away and reverse.  This President is committed to not letting that happen."
It's amusing because Jake clearly wasn't saying that the President's accomplishments were merely talking points, but rather, expressing frustration at their use as a means of avoiding years worth of questions. However, Carney has a legitimate point. President Obama is the Babe Ruth, Tiger Woods, and Walter Payton of gay rights presidents, all rolled up in one, and his accomplishments shouldn't be overshadowed by a single, largely symbolic, and likely temporary failure. But the fact is that they are, and the longer this drags on (actual evolution happens faster than this; I've grown 3 extra fingers waiting for him to spit it out), the longer his opponents can duck for cover behind him.
Here's the clip, from C-Span:
Have a tip we should know? tips@mediaite.com