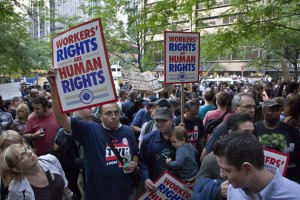 Twenty-One people won't be showing up to work at the Milk Street Cafe on Wednesday, and it's not an act of solidarity with the Occupy Oakland general strike. The owner of the eatery, Marc Epstein, says that he had to lay off the workers because business has hit a wall. The culprit? Occupy Wall Street.
Epstein told FOXNews.com's Joshua Rhett Miller that a few OWS-spurred factors contributed to the drop in business, most notably the police barricades set up around Zuccotti Park:
"It's not only a physical impediment, it's a psychological impediment," Epstein told FoxNews.com. "You look down Wall Street now, and it looks like it's under siege. So, people who have to walk down Wall Street don't walk down Wall Street. It used to be a beautiful pedestrian mall, and now it's not — it's ugly."
RELATED: The Ultimate Warrior On Occupy Wall Street: 'They Have No Common Decency'
Epstein's landlord just happens to be Donald Trump. And while he had been hitting walls with police and city officials, Trump personally assured Epstein that he'd see what he could do. Trump told FOXNews.com that Epstein's cafe — the largest Kosher eatery in the Wall Street area, according to Jewish Week — wasn't the only one of the businesses in his properties affected by the protests.
Back in June, when the restaurant — which is a few blocks and about a five-minute walk away from Zuccotti Park — opened, Epstein and the cafe were featured on a CNBC segment, touting the creation of 80 jobs. In the interview, Epstein said that before he opened, he went and polled people in the neighborhood, asking what kind of food and service they wanted. He said that $12-$13 would buy someone a lunch at a great value. But when OWS protesters are getting their meals for free, there's no need for them to run off to the Milk Street Cafe to eat.
Tourists probably aren't walking around as much, as Epstein suggested, and Wall Streeters — the group of eaters who see $13 lunches as a value — might be shying away from the place, as well, just to avoid the mess on the streets. Epstein told CBS that the layoffs were the first he's had to make in 30 years of owning the business, which had been in Boston before the June opening in New York.
The New York Post spoke with Shamil Cepeda, one of the 21 workers laid off at the Milk Street Cafe. The 23 year-old said she supported the OWS movement…until they caused her to be laid off. "If they would just go get a real job, helping real people, that would help a lot more than just taking up space and shouting at people and putting others they claim to care for out of work," she told the Post.
Help may be on the way, however, in the form of a letter to Mayor Bloomberg from some state senators, assemblymen, and representatives, urging him to crack down on the quality of life issues that are angering local residents. The barricades are part of the concerns, according to Sheldon Silver, one of the more liberal and powerful men in the state assembly. Silver told reporters that while he respects the right to protest, First Amendment rights, "should not include defecating or urinating on sidewalks." Protesters interviewed by the Daily News immediately accused Silver of trying to use this as a way to kick them out of the park.
Enjoy video of the happier times at the Milk Street Cafe below, courtesy of CNBC:
Have a tip we should know? tips@mediaite.com