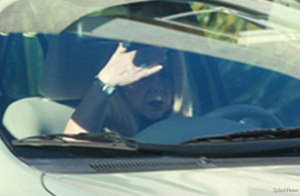 Nikki Finke is often referred to as the "most feared" or "most hated" woman in Hollywood, not only for the exclusive gossip she publishes on her industry news site, Deadline.com, but also because, using come combination of wilyness and black magic, she's managed to accomplish that rarest of feats in today's online age: make it through her career with only three photos of her available online, one from a college yearbook, a photo of Finke from her debutante days, and the other her fairly ubiquitous black and white headshot. Well, Rupert Murdoch's fledgling iPad news source, The Daily, may have changed all that.
Gawker once offered a $1,000 reward for a recent photo of Finke – or, as they phrased it at the time, "the scourge of industry reporting" – but their endeavor ultimately proved fruitless.
Now, The Daily has published a photograph of Perhaps Finke, Possibly Maybe, depicting an older, platinum blonde woman seated in her car. Their story, by reporter Hunter Walker in the "Flash" section helmed by gossip veteran Richard Johnson, attempts to cover its tracks by asking "Is this the most powerful woman in Hollywood?" instead of outright declaring it an image of the elusive gossipmonger. Those asked by The Daily to verify that this woman is indeed Finke each replied that they couldn't be sure.
Finke, for her part, has publicly (from the privacy of the home she rarely leaves – not that we blame her) stated that the photo is not of her. But, as The Daily reports, she has called several higher-ups at The Daily's parent company, News Corp, threatening that her site's coverage of News Corp's media outlets might take a negative turn if the photo is not taken down.
Finke wrote to Gawker, attempting to set the story straight because, come on, like she'd be caught dead in a Yaris:
What is 'preventing' the Daily from publishing the photo in its possession is that, in fact, it is NOT of me. According to what the Daily tells me, it was taken of a woman driving a green Toyota Yaris and I not only have never owned, driven, rented, or borrowed a Toyota Yaris, but also not any Toyota since the 1980s. There are other details about the photo demonstrating it is not of me. Also, Johnson told me the photo was taken at a time when, in fact, I was not driving any car or outside my home. News Corp has not shown the photo to me.
As The Wrap – positioned as a rival to Finke's Deadline – reports, Walker (formerly of The Wrap, now working at The Daily) had informed Finke's boss, CEO of Mail Media Corporation Jay Penske, of his plan to hunt down a recent photo of Finke.
The Wrap has since heard that Finke's outrage may be something other than frustration over her association with a Toyota:
We are told something slightly different: that Johnson mentioned an identifying feature of the image – a watch Finke was wearing in the photo – and that left her ballistic.
Have a tip we should know? tips@mediaite.com