Did the NY Times Force Obama to Seek Congressional Approval for Syria Strike?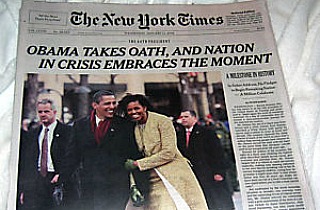 Did President Barack Obama's close relationship with the New York Times' editorial writers force him to seek congressional approval for a strike on Syria? The Huffington Post's Michael Calderone identifies a possible link between the Times editorial writers' skepticism about the proposed intervention into that country's civil war and Obama's last-minute decision to ask Congress for the right to use force.

On August 29, Calderone writes, Obama sat with some members of the New York Times editorial board for an off-the-record discussion about the situation in Syria. David Brooks, Ross Douthat, Gail Collins, and editorial page editor Andy Rosenthal reportedly attended that meeting.
Prior to that meeting, the editorial board had not taken a position on the proposed strike, though the paper had stressed that the United States should attempt to exhaust every diplomatic avenue to resolve the crisis posed by Bashar al-Assad's government's use of chemical weapons.
RELATED: Obama Calls for Syrian Intervention, But Will Seek Congressional Approval
After that meeting, on August 30, the Times editorial board observed that Obama's "approach on Syria now seems wholly at odds with the strong position" he took in 2007 when he campaigned against the unilateral use of American force abroad. They note that Obama told the Boston Globe during the 2008 presidential campaign that "the president does not have power under the Constitution to unilaterally authorize a military attack in a situation that does not involve stopping an actual or imminent threat to the nation."
That night, President Obama decided, reportedly against the counsel of his advisors, that he would seek the approval of Congress for a strike on Syria.
"We did meet with the Obama White House about two years ago and that meeting was off the record," a Times spokeswoman told Calderone. "We met with them again recently under the same restriction, which we intend to honor."
Throughout his presidency, Obama has held off-the-record meetings with prominent news anchors, columnists and commentators, including Washington Post blogger Ezra Klein, MSNBC host Ed Schultz and Huffington Post editor-in-chief Arianna Huffington.
"But the Obama White House has long seemed particularly interested in getting its point of view across in the Times, and the president has said he reads all the paper's columnists," Calderone reported. "In April, a former adviser said the Times is the only paper Obama reads.
h/t The Huffington Post
[Photo via New York Times]
— —
> >Follow Noah Rothman (@NoahCRothman) on Twitter
Have a tip we should know? tips@mediaite.com