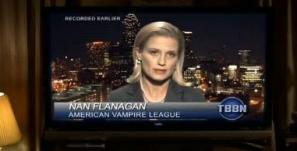 When vampire-related HBO campy drama True Blood initially premiered in September 2008, the lead-up publicity campaign included the cable news-like fodder of vampire vs. human politics. But after the first few episodes of season one, the political plotlines had almost disappeared.
That has changed in the past few episodes of season three, including last night when it sounds like the show dipped a toe in the "Ground Zero Mosque" controversy.
Well, maybe not the Islamic Center controversy du jour specifically, but the vampires as Muslims connection was clear last night. In the previous episode, vampire leader Russell Edgington had gone off the rails, and in a disturbing, gruesome and admittedly funny scene he murders a news anchor live on air. Now he's on the run, and Nan Flanagan, spokesperson of the American Vampire League, is on TV to discuss the ramifications.
The news anchor who interviews Flanagan describes Edgington as a "vampire terrorist," and Flanagan doesn't move away from that designation. "I do not deny that this was a heinous act of a mad man," said Flanagan. "Russell Edgington is an extremist and a terrorist. But that's not because he is a vampire. It's because he's an extremist and a terrorist."
She makes a Jeffrey Dahmer analogy – that he was just one extremist human. "I certainly don't recall protests or a call to punish all human men after…" and then the main character Bill Compton shuts off the TV.
Those who defend the rights of the people behind Park51 often make a similar connection. Yes, the people behind 9/11 identified themselves as Muslim, but they were the exception to the rule, the extremist twisting of a peaceful religion. The detractors also make it – 'we're not saying all Muslims are terrorists, but all terrorists are Muslims, right?'
Just two episodes left this season – we'll see if the vampires and humans can come to some sort of compromise in the face of political posturing. Here's the clip:


—–
» Follow Steve Krakauer on Twitter
Have a tip we should know? tips@mediaite.com