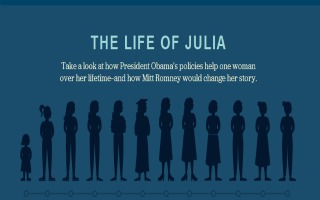 The Obama campaign's latest effort to frame the administration's policy achievements in a way that is equally informative — and terror-inducing for those voters that might fear a Republican reversal of the President's social policies — is a cartoon woman named "Julia." Republicans mocked the Obama campaign's latest interactive tool on Thursday, but liberals claimed the attack on Republicans, and Mitt Romney in particular, to be effective. But are Republicans jumping the gun by declaring Julia a failed joke?

RELATED: Romney Campaign Releases New Anti-Obama Ad Continuing 'Obama Isn't Working' Theme
Visitors to the Obama reelection website's Julia page are invited to click through to a flash animation that takes users through the life of Julia – from a little toddler to a geriatric retiree. The animation shows users where Obama's reform policies will aid Julia and her child, Zachary, through her life and contrasts those policies with what a Romney/Ryan administration would do (presuming wildly that Wisconsin Rep. Paul Ryan would be Romney's running mate and not merely a convenient foil for those opposed to reforming the social safety net).
Republicans on Twitter were incensed over the campaign.
The big message from #julia – women do nothing of note from 42 to 65.

— EdMorrissey (@EdMorrissey) May 3, 2012
When #Julia earns her feminist gender socio-political science studies degree, she is immediately handed an application packet for Starbucks.

— Jonathan Bertsch (@JE_Bertsch) May 3, 2012
At 33 #Julia was walking on a beach with Obama. These footprints mark where he carried her.

— Political Math (@politicalmath) May 3, 2012
#Julia, I hate to be the one to break this to you, but the federal government does not and cannot love you.

— jimgeraghty (@jimgeraghty) May 3, 2012
Even Michelle Malkin's Twitchy got into the act, writing about how Julia represents "the new composite woman in Obama's life."
But while Republicans are declaring the Julia issue simultaneously outrageous and comedic, progressives are claiming victory. Sure, some admit the Julia campaign may be heavy-handed and easily lends itself to parody, but it has Republicans right where Obama wants them – talking gender issues.
Ana Marie Cox, writing in the U.K. Guardian, says that the GOP has fallen into a cleaver trap to mock a woman who benefits from Obama's reforms and thus reinforces the notion that Republicans of all stripes care little for the concerns of women like "Julia."
As silly as it is, even baiting the Republicans into mocking the Julia feint is a form of engaging them on the gender issue. Whether or not you believe Romney's policies are bad for women is an ideological issue, but the Obama campaign can point to the real consequences those policies have. The character is imaginary; the policies aren't.
Robert Schroeder writes in Market Watch that the "war on women" is "a war Romney is losing" and that angst has moved Republicans to mock what they cannot refute.
The one-liners make for great political talking points and Twitter-verse banter. But conservatives will have to try harder if they want to take women's votes away from Obama. He's leading Romney among women in a new poll out today of voters in three important states: Florida, Ohio and Pennsylvania.
Schroeder is right. There is a gender gap and women favor Obama, just as men favor Romney. But the attempt to bifurcate the electorate, as Obama's campaign seems to be doing, to exacerbate this gender discrepancy will only pay off in the short run. The central issue around this election remains the economy– not a social values or foreign policy. Obama can tout his successes with America's business abroad and the issues of women and minorities at home, but by October the election will be about the state of the economy, the Dow, weekly jobless claims and gross domestic product growth (or lack thereof).
Barring some major event abroad, or some catastrophic political miscalculation at home, the battlefield that this coming campaign will be fought on is an economic one. Conservatives and liberals can argue over who won this news cycle over Julia, but it is a fleeting issue. Julia is a fiction – when voters head to the polls in the fall, they will be thinking about the state of affairs in their lives and those of their loved ones. Voters will be concerned with real people, not cartoons.
Have a tip we should know? tips@mediaite.com