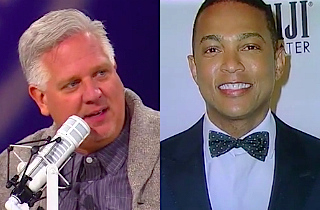 Glenn Beck has not always been the biggest fan of CNN's Don Lemon. From Lemon's treatment of Rand Paul to his more recent analogy between slavery and child abuse, the two media figures have rarely seen eye to eye.
But that changed this week after Lemon used his Black America Web radio address to denounce the political correctness of the left. "After almost 25 years in the news business, you know who is the most easily offended and the least tolerant: Liberals and progressive – because many of them don't really want to hear anyone else's opinion but their own," he said last week.
"We may disagree on some really fundamental issues," Beck said of Lemon on Tuesday. "But I bet that we would end up liking each other to this degree — he's unpredictable." Because the CNN host is not in "lockstep" with any particular ideology, Beck said he thinks they might get along well.
"Amen," Beck said as he listened to Lemon's radio comments. "Could we get him on the air?" he asked. "I'd like to get him on the air." Beck wondered aloud if Lemon would be "willing" to talk through some of these issues with him on his show. If so, he said the two men might be able to "heal our nation."
Mediaite reached out to Lemon for comment on Beck's proposal. "Of course I would go on Glenn's show. I'd welcome him on mine as well," the anchor of CNN Tonight with Don Lemon told us via email. "I'm always open to constructive dialogue. There's too much yelling, name calling and pandering lately. I welcome any attempt at reaching common ground."
Could a Beck-Lemon summit be on the horizon?
Watch video below, via TheBlaze:
[Photo via screengrab]
— —
>> Follow Matt Wilstein (@TheMattWilstein) on Twitter
Have a tip we should know? tips@mediaite.com