Scarborough Details 'Very Ugly Call' With Trump Over WH Invite: 'I Could Have Invited' Hannity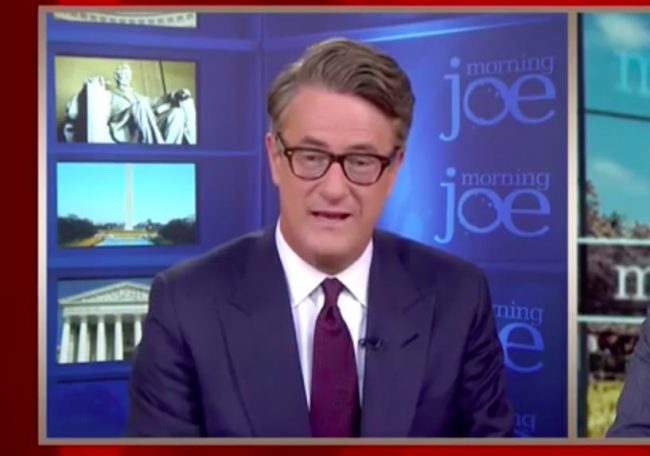 Well, it looks like the Morning Joe/Trump feud will be around for a while, what with the National Enquirer stuff and the president taking to Twitter this morning to keep the fight going. It would also appear that remarks given by Joe Scarborough yesterday to the New York Times will help play a part in keeping this whole thing alive.
Scarborough pointed out how his relationship with the president deteriorated shortly after Trump took office. Following Trump's surprising election victory, it was reported that Joe was being used by Trump as sort of an informal advisor, and Scarborough noted that he tried to use his program "and an advisory and learning tool" at that time.
However, in his opinion, it all seemed to break down following Trump's first weeks as POTUS after the Morning Joe hosts mercilessly mocked White House advisor Stephen Miller for his defense of the travel ban.
From the NYT piece:
Then came what he described as a screaming match over the phone a couple of weeks later, after Ms. Brzezinski and Mr. Scarborough mercilessly mocked Mr. Trump's aide Stephen Miller for his overheated proclamation that the president's power to impose the travel ban should "not be questioned" by the courts.

"It went back and forth for 20 or 30 minutes and it was a very ugly call," Mr. Scarborough said. "He was screaming at me saying, 'Why are you being so tough on this kid — I invited you to lunch at the White House, and you know I could have invited Sean Hannity,' and I said, 'Well, invite Sean Hannity — we're not going to be schmoozed because you gave us some fish.'"
Also, according to Scarborough, the president was disappointed after his first full week when Joe told him over the phone that he didn't think his first week as president went well.
The Hannity bit is obviously interesting considering the beef the two hosts have engaged in lately. Both men have taken numerous personal shots at each other, with Hannity also devoting TV segments to ripping the MSNBC personality.
[image via screengrab]
—
Follow Justin Baragona on Twitter: @justinbaragona
Have a tip we should know? tips@mediaite.com