Donald Trump's Chances of Winning New Jersey Just Got Wacked Like a Soprano Hitjob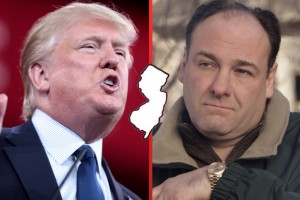 Despite proclamations that he would win the Garden State, Donald Trump's campaign has appeared to give up on New Jersey altogether.
The development was discovered by POLITICO during a site visit to the campaign's headquarters in the town of Edison. Suddenly, and without warning, the entire place was vacated — with only remnants of old campaign stickers still stuck to the walls.
Trump told his buddy Sean Hannity in May, "I mean, I love New Jersey," when asked if the Republican candidate could win the state's 14 electoral votes come November. He continued, "I am New Jersey. Like a second home. I have property there. I have a lot of employees there. And frankly, I think we're going to do well."
Frankly, he didn't. The latest Real Clear Politics average puts former Secretary of State Hillary Clinton up by 11.7 points over Trump according to the latest estimates in the state, despite Governor Chris Christie's swinging endorsement this year.
POLITICO's Matt Friedman writes:
After two messages left at the number of Trump's New Jersey headquarters were not returned, POLITICO visited the nondescript suburban complex listed as its address.

That office no longer exists.
The most recent available FEC filing information indicates that rent payments for the space were made on May 11, and nearby employees said that the space has been vacated for, "at least a month." Although New Jersey is not one of the key eleven states that pundits predict will be most influential for the 2016 cycle, the move comes at a time when the campaign is clearly reeling nationally.
The state has gone safely Democratic in every election since Bush put the beat down on Dukakis in 1988, going Republican for Nixon, Carter, and Reagan twice before then. In May 2016, state governor Christie — who, in the opinion of many, largely ignored his home state to focus on his national ambitions — suffered an all-time low approval rating with just 29%.
Trump can't be happy with the doomed prospects of losing the Garden State to Clinton. But, in the immortal words of Jersey's own Tony Soprano, "Oh, poor baby. What do you want, a Whitman's Sampler?"
One box of chocolates to Trump Tower, please.
Have a tip we should know? tips@mediaite.com