Don't Worry Christie, Mitt Romney Thinks Bridgegate Scandal Didn't 'Hurt' You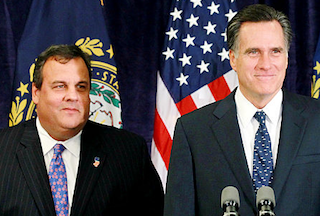 Chris Christie has a new defender in the form of Mitt Romney, who heaped praise on the way the New Jersey governor has handled the controversy surrounding his aides' decision to shut down access lanes to the George Washington Bridge as political retribution. In an interview with the Washington Post, Romney said Christie "handled this in a very effective way," taking him at his word that the governor knew nothing about the scandal before it broke.
"A member of his administration did something that he was unaware of and that he found reprehensible," Romney said, referring to Christie deputy Bridget Anne Kelly, who was caught emailing the order to cause the traffic jam last September. "He faced the American people for two hours, took their questions. He dismissed people who were responsible. He took personal responsibility. That's what a leader does."
"I think he's handled this kind of setting in a way very different than people who are not leaders," Romney continued, "and I think the American people are pining for leaders who will take responsibility, who will answer questions openly, who will make sure that there's accountability for the individuals who've done something wrong and speak in a blunt, straightforward manner. I think Chris is not hurt by the controversy. I think as time goes on, he'll be seen as a strong leader."
All of this praise, including Romney's assertion that Christie remains a "very strong potential nominee" for 2016, comes despite the apparent tension that developed between the two men during Romney's presidential run in 2012.
Christie's keynote speech at the GOP convention that year was seen by many as being overly self-promotional and failing to properly boost Romney. On top of that, Christie's rhetorical and physical embrace of Barack Obama just five days before the election likely sealed the deal for the president.
[photo via screengrab]
— —
>> Follow Matt Wilstein (@TheMattWilstein) on Twitter
Have a tip we should know? tips@mediaite.com