Duke Divinity School Head Cites 'Global Repercussions' to Defend Muslim Prayer Reversal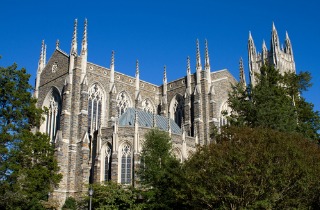 This week Duke University proposed giving Muslim students about three minutes every Friday afternoon for a call to prayer at the university chapel bell tower, but as a result of complaints and security threats, the university backtracked.
And now, Dean Richard Hays of Duke University's Divinity School has defended the decision in a letter to the school, posted by one student on Twitter.
Hays argues that the Duke Chapel "maintains an explicit Christian identity and mission," and while they are perfectly fine with other faiths having spaces on campus to pray and practice their religion however they see fit, "such a commitment does not, however, necessarily lead to endorsement of the decision to explicitly identify the Chapel with another faith tradition."
He cites some theological differences between Christianity and Islam, claims the Divinity School was not consulted ahead of time about the proposal, and makes this rather strong assertion:
"Any decision to permit the use of a prominent Christian place of worship as a minaret for Muslim proclamation will, in our time, have immediate global repercussions. Any discussion about such a proposal should take into careful account the millions of Christians living in Islamic societies where their faith is prohibited or persecuted. There is no suggestion here that Muslims at Duke are responsible for the behavior of Muslims elsewhere in the world, or that hospitable treatment of Muslims here should be dependent on the treatment of Christians in the Muslim world. However, it should be understood that Christians in the U.S. will want to show solidarity with fellow Christians in very difficult circumstances, and be sensitive to how our actions here will be experienced by them."
You can read Hays' full letter here.
[h/t TIME]
[image via screengrab]
— —
Follow Josh Feldman on Twitter: @feldmaniac
Have a tip we should know? tips@mediaite.com
Josh Feldman - Senior Editor