CNN Decimates Dem Debate Record with 15.3M Viewers, Exceeding (Most) Expectations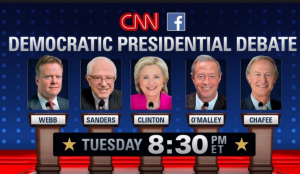 The numbers are in for CNN's Democratic debate, and the preliminary data is impressive. According to Nielsen and CNN, overnight ratings show between 9:00p and 10:00p EST, the network averaged an 11.2 household rating, which translates to a whopping 15.3 million viewers (along with 4.8 million in the 25-54 key demo). Context: That's a considerably higher rating that the previous Democratic debate record of an 8.9 rating on ABC in 2008, when 10.7 million people tuned in.
The prediction here of this debate would be a record-breaker and would bring in 10.3 million viewers per a column Monday, which was questioned on my show and privately by more than a few folks in the industry as being far too generous. The math and logic thrown back was uniform: There is no Trump and therefore less mainstream interest; the Dodgers-Mets playoff game will take away viewers; the highest number ever for a Democratic debate on cable (with candidate Obama in '08) was only north of eight million. So why would this debate–moderated to near-perfection by Anderson Cooper–be a record-breaker given all of those headwinds?
First, a few points on how the 10.3 million number was arrived at:
– The MLB playoffs ain't the NFL playoffs or even the NBA playoffs in terms of ratings. Haven't been for a long time. Through Monday's games, the average audience of 3.74 million viewers across TBS, ESPN, MLB Network and Fox Sports 1. In contrast, the NFL divisional playoffs earlier this year averaged 34.3 million. So even with major markets in New York (Mets), Los Angeles (Dodgers) and Chicago (my Cubs) all in action last night, it wasn't going to make as big a dent as many believed.
– The Trump factor: Yes, the GOP frontrunner wasn't on stage last night. But to calculate that Trump would somehow be responsible for losing about 65 percent of a debate audience from the first two GOP debates (24 million on Fox, 23 million on CNN) is overestimating his appeal and underestimating the curiosity around Hillary and the grass roots support of Bernie. But overall, many Americans are much more interested in this whole process in general, with a recent CBS poll showing 70 percent find the campaign interesting compared to just 40 percent who felt the same way in 2011.
The next debate is on CNBC. Republicans will be back and front and center again. The predictions from most of the experts in the industry will again be lower than the actual number with debate/Trump fatigue being the baseless reason cited. 22.5 million is the early guess here, but that will be likely go up when the final submission is made.
In the end, what few seem to understand is that past ratings around past debates mean nothing in this upside-down election cycle. Yes, there's Trump and all the entertainment he brings…but there's much more to the general storyline as a whole. This is truly reality TV with the perfect combination of conflict: 17 main characters, hundreds of peripheral performers (pundits and writers) and a visceral hatred of the other side (See: an emotional investment) that leads to all boats being lifted regardless of party.
Three debates down, ten to go. CNN has now broken two viewership records in less than a month. Fox shattered the ceiling back in August.
In a race with so many eventual losers, everybody wins on the broadcast side.
— —
Follow Joe Concha on Twitter @JoeConchaTV
Have a tip we should know? tips@mediaite.com