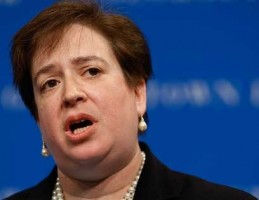 News broke last night that President Obama would be announcing Elena Kagan as his nominee for the US Supreme Court, replacing Justice John Paul Stevens, who announced his retirement last month. While Kagan is a familiar name in both legal and news circles, the interest in who she is has "gone wide" so to speak. So following is a primer of some talking points one can expect to hear in the coming day. And no, do not expect a reprise of the "Wise Latina" meme.
There is a pretty accepted consensus that Kagan is an incredibly well regarded judicial scholar, and her resume appears to support that claim. She is currently the Solicitor General of the United States, and is the first woman to hold that office. She was also the first female Dean of Harvard Law School. Perhaps most notably in the confirmation hearings, she will be the first nominee in over 40 years to not have practical experience on the bench.
Though her judicial resume is thick, there are several issues that are most likely to become talking points in the coming weeks and months:
Her Personal Life. There have already been published reports about rumors that Kagan is a lesbian, but the most notable report (published by CBS News) has since been retracted. Kagan is a 50 year-old single woman, and would not be the only unmarried Justice to serve on the Supreme Court. In fact, David Souter was never married, but faced much less scrutiny as much of his term was served in a pre-blog era.
Goldman Sachs.USA Today reported that Kagan once took a 10k honorarium in 2008 for serving on an advisory panel with the financial giant. This had her meet annually to discuss public policy issues but was not involved in any investment decisions.
Bill Clinton. From 1995 to 1999, Kagan served as Clinton's Associate White House Counsel. While its somewhat unlikely that her role there was directly involved in any controversy, there was plenty of legal controversy in that specific time span, which may very well be brought up by those who oppose Kagan (and likely opposed Clinton.)
Her Judicial statements and writings are sure to be poured over by researchers on both left and right, and she appears to be fairly well accepted as a moderate voice. Some of her most notable statements include:
Reproductive Rights: During her confirmation as Solicitor General, Kagan wrote that would "owe respect to the law" as it is currently decided.
On Judicial Activism: "I think it is a great deal better for the elected branches to take the lead in creating a more just society than for courts to do so."
On Don't Ask, Don't Tell: "I abhor the military's discriminatory recruitment policy. … This is a profound wrong — a moral injustice of the first order."
On the Death Penalty: "I am fully prepared to argue, consistent with Supreme Court precedents, that the death penalty is constitutional."
The New York Times has a terrific and more in-depth summary of Kagan's positions on some of the more hot-button issues of the day, including warrantless wiretaps (rarely), same sex marraige ("no federal right"), and the Second Amendment (she respects individual's rights to bear arms).
Have a tip we should know? tips@mediaite.com
Colby Hall - Founding Editor