Enough With The Puff Pieces, If Ivanka and Jared Really Object to President's Policies, They Should Quit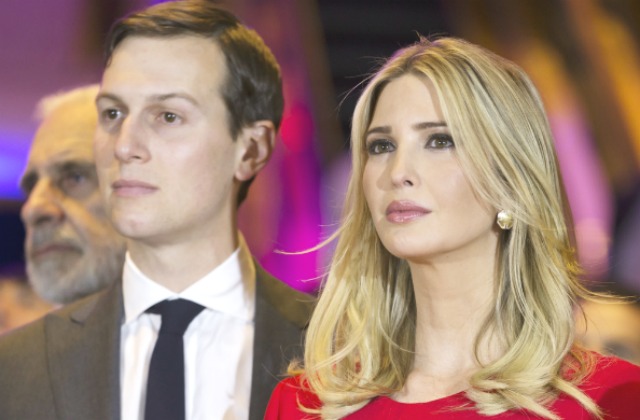 The latest sympathetic piece about Ivanka Trump and Jared Kushner ran Sunday over at Politico, days after President Donald Trump Tweeted his plans to implement a transgender military ban. Titled "Ivanka and Jared find their limits in Trump's White House," the piece quotes R. Couri Hay, a Trump family friend, as saying that expectations are way too high for Ivanka.
"It's unrealistic, unfair and cruel to expect her to change climate policy and pre-K and women's issues in six months," Hay said.
FiveThirtyEight's Nate Silver Tweeted this regarding the Politico story.
Amazing they got so much insight into Ivanka despite relying solely on sources such as Blavanka Blump and John Barron.

— Nate Silver (@NateSilver538) July 31, 2017
As we've previously chronicled, stories that portray Ivanka Trump and Jared Kushner in a positive light have a not been in short supply over they past six months. And they have a funny way of appearing after Donald Trump makes his most unpopular moves (particularly with progressives,) such as his withdrawal from the Paris climate accord withdrawal, and now the transgender ban.
Further, Ivanka and Jared try their best to hop on the bandwagon with moves likely to be popular — such as Anthony Scaramucci's shocking ouster as White House Communications Director.
Ivanka Trump and Jared Kushner were "fully supportive of the general and following his lead" with departure of Scaramucci, official says.

— Jeff Zeleny (@jeffzeleny) July 31, 2017
The anonymous sources behind all these stories in various outlets leak, purportedly, to show us who Ivanka Trump and Jared Kushner really are. Unwittingly, that's exactly what they do.
The first daughter and her husband clearly value status and popularity above all. They like having office space in the West Wing, and they want to be well thought of by their progressive pals like Leonardo DiCaprio — who reportedly met with Ivanka during the transition to try to influence the incoming administration on climate change. That, clearly, is the purpose of the Ivanka and Jared really tried, you guys genre of political journalism which has emerged over the past six months.
What the couple has not shown, in any meaningful measure, is a desire to actually stand for anything other than themselves. The two can talk a big game about the Paris accord, the transgender ban, or any other part of the President's legislative agenda that they oppose. What they have failed to do is…well…anything. Their signature achievement, Per a New York Times report, was convincing President Trump not to sign an executive order rolling back Obama-era LGBT protections.
But Trump, apparently, was leaning that way to begin with. Per the article, "Mr. Trump never seriously considered signing the order, and did not need much convincing, people close to him said."
Mediaite's Kylie Cheung wrote earlier. "If [Ivanka] sincerely cares about any of these causes, it's time for her to walk away from her father's administration." This is a sentiment we'll echo in this space. It seems obvious, at this point, that quitting — the administration not the family — would be the most impactful move Ivanka Trump and Jared Kushner could make. But on this, their action, or inaction as it were, speaks louder than any sources's words.
[image via screengrab]
——
Joe DePaolo is a Senior Writer and the Sports Editor for Mediaite @joe_depaolo
This is an opinion piece. The views expressed in this article are those of just the author.
Joe DePaolo - Senior Editor