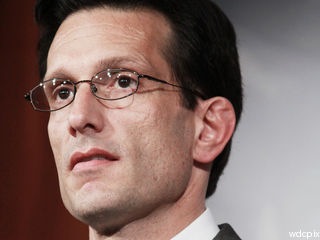 We've heard plenty about what media figures think about the protests going on Wall Street recently. And now, in the past couple days, politicians have been letting their opinions be known too. While many Democrat leaders have been hesitant to throw in full support, instead dipping their toes in with acknowledgment, some Republicans have had no problem outright condemning the protesters. The latest is House Majority Leader Eric Cantor who said he was worried about the "growing mobs."
The comments came during an address this morning to the 2011 Values Voter Summit, an event where GOP leaders promise religious leaders that, "Yes, we'll totally get on the gay and abortion things soon. We swear!" While there, Cantor discussed the protests going on throughout the country.
From ABC News:
"Majority Leader Eric Cantor today described the Occupy Wall Street protesters as 'growing mobs,' in some of the sharpest criticism yet from a one of the highest-ranking Republican leaders in the House.
'I am increasingly concerned about the growing mobs occupying Wall Street and other cities across our country,' the Virginia congressman said in Washington this morning.

The majority leader than chastised Democrats for supporting the protestors. 'Believe it or not, some in this town have actually condoned the pitting of Americans against Americans,' Cantor said. 'But you sent us here to fight for you and for all Americans. You sent us here to bring about real change in Washington, real change to your federal government. And we're committed to do that.'"
It's become clear that one of the big stories of the Fall will be the protests. Equally big will be the comparisons of how media and political figures react to Occupy Wall Street and how they reacted to the Tea Party a few years ago. For every opinionated quote someone makes about one group, people will be quick to find a corresponding quote for the other. The Huffington Post already has a good one for Cantor:
"But when he spoke at the Values Voter Summit in 2009, Cantor expressed a very different sentiment toward another movement that was arguably 'pitting Americans against Americans' — the Tea Party.

At that time, Cantor praised those protesters as 'fighting on the fighting lines of what we know is a battle for our democracy.'

'People are beginning to wake up and see a country they don't really recognize,' said Cantor."
When it became clear how big the Tea Party became a few years ago, many public figures quickly had to recant previous statements for fear of angering a a large (and powerful) voting block. It will be interesting to see, if Occupy Wall Street continues to follow the same path of growth and relevance the Tea Party did, whether or not comments like these come back to bite Conservative leaders.
Have a tip we should know? tips@mediaite.com