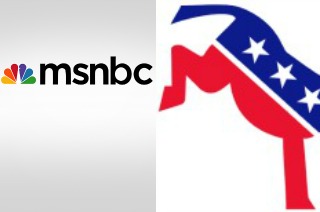 "When it comes to issues of U.S. militarism and spying, the allegedly 'progressive' MSNBC often seems closer to the 'official network of the Obama White House' than anything resembling an independent channel." This stinging rebuke of the liberal cable news network comes to you via The Huffington Post and Jeff Cohen, a former producer for MSNBC's Phil Donahue.

Donahue's program was cancelled on the eve of the Iraq War due to, as many progressives still suspect, the host's vehement opposition to that conflict. In his bio, Cohen gripes about being "terminated for political reasons," providing his critics and MSNBC's supporters with a convenient way to disregard his scathing critique of the network as personal and petty. But what cannot be so easily dismissed is the dramatic tune out taking place as MSNBC loses the trust of even its target market: self-identified Democrats.

At 8 and 7 percent respectively, Fox News and CNN were cited by a highest percentage of the public in a recent Gallup survey as the networks they turn to for news and information. MSNBC netted just one percent of respondents who said the same. MSNBC joins the dubious company of the legacy network broadcasters who, Gallup shows, are rapidly losing the trust of the viewing public.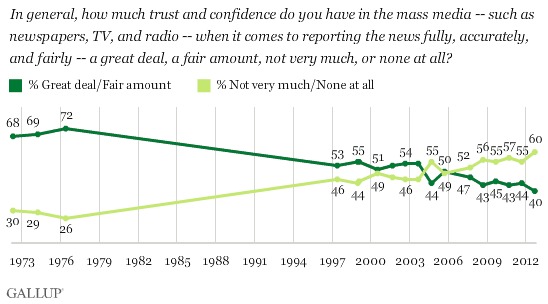 But MSNBC's troubles go deeper – designed to appeal to a liberal marketplace, MSNBC is failing to attract even that demographic.
RELATED: More Americans Prefer Fox News Over Other TV News Outlets, Gallup Poll Finds
In the latest Gallup poll, self-described Democrats cited CNN well over MSNBC as their preferred source for information on television. 10 percent of Democrats told Gallup's pollsters that CNN was their primary source for news and information. Only 2 percent said MSNBC and 1 percent cited Fox News.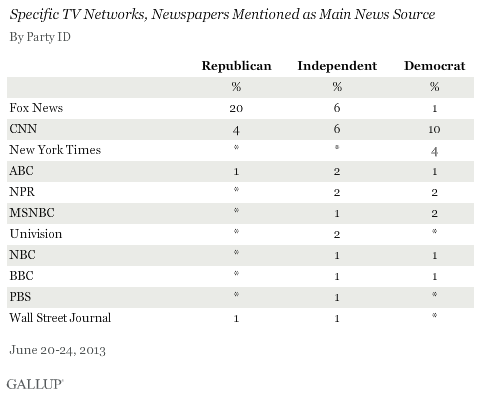 Self-identified Democrats have a motive to distort the amount of time they admit to watching Fox – not wanting to concede to consuming programming from a cable network with a distinctly conservative editorial tone. But they have no incentive to misrepresent their viewing habits relating to MSNBC. Indeed, self-identified Democrats specifically disregarded the incentive to overstate the amount of time they spend watching the liberal cable news network.
The reasons for MSNBC's lamentable condition are manifold. Many doctrinaire progressives would agree with Cohen's assessment that MSNBC's network analysts appear incapable of calling the White House out when they manufacture or distort facts to support the preferred policy goal of the moment. Others do not.
Some have attacked the network's progressive hosts for being, what they consider, excessively critical of President Barack Obama. Indeed, critics on the left have lamented the "professional left's" attacks on the president for prosecuting leakers, conducting unrestrained drone warfare, and utilizing the Espionage Act and the National Security Administration to intimidate reporters. This opinion is shared by many who abandoned MSNBC's prime time lineup after blue-collar champion Ed Schultz was relegated to weekends in April.
Though it is one of their own making, MSNBC is in a lose/lose position. The primarily pro-Obama editorial voices on that network are simply unable to satisfy the progressive left without frustrating their sources and backers in the administration. Nor can they effectively sate the informational appetites of those offended by criticisms of this White House by covering events fairly and accurately. As is often the case in second presidential terms, the news is simply not cooperating.
The result of MSNBC's muddled approach to this conundrum has been an exodus of viewers. But where there is failure, there is also opportunity. Quietly amassing talent and expanding their influence behind the scenes, Al Jazeera America is watching MSNBC's decline with great expectations.
> >Follow Noah Rothman (@NoahCRothman) on Twitter
Have a tip we should know? tips@mediaite.com