Ex-CNNer Campbell Brown Tells Obama To 'Stop Condescending To Women' In NY Times Column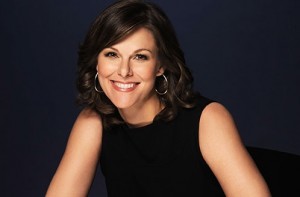 Campbell Brown, former news anchor for CNN and NBC, has an op-ed in today's New York Times calling out President Obama for sounding too "paternalistic" and "maddeningly off point" when he talks about women in this economy. She advised that the president to drop his "tone that can come across as grating and even condescending," explaining that many women don't want to be "patted on the head" by politicians pandering to them, they want "a chance to succeed based on their talent and skills."
RELATED: Dana Milbank Calls Obama 'Our First Female President' For 'Pandering' To Women
Brown explained that as she watched Obama deliver the commencement speech at Barnard University, she noticed that he made specific reference to "how women are smarter than men" and found it to be incredibly clichéd in how it broached gender issues.
Some women are smarter than men and some aren't. But to suggest to women that they deserve dominance instead of equality is at best a cheap applause line.

My bigger concern is that in courting women, Mr. Obama's campaign so far has seemed maddeningly off point. His message to the Barnard graduates was that they should fight for a "seat at the table" — the head seat, he made sure to add. He conceded that it's a tough economy, but he told the grads, "I am convinced you are tougher" and "things will get better — they always do."
Brown also hit the Obama team over the online "Julia" campaign trying to show how women particularly benefit from the president's policies, calling it "a silly and embarrassing caricature based on the assumption that women look to government at every meaningful phase of their lives for help." She acknowledged that the Republican primary did no favors for the GOP in trying to appeal to women, but pointed out that it's doubtful anyone is going to confuse Rick Santorum and Mitt Romney.
RELATED: New York Times Doubles Down On Controversial Poll Showing Romney Beating Obama Among Women
She agrees with President Obama on the issue of abortion, Brown admits, but Obama is just "trying to hard" in trying to win over women.
He's employing a tone that can come across as grating and even condescending. He really ought to drop it. Most women don't want to be patted on the head or treated as wards of the state. They simply want to be given a chance to succeed based on their talent and skills. To borrow a phrase from our president's favorite president, Abraham Lincoln, they want "an open field and a fair chance."

In the second decade of the 21st century, that isn't asking too much.
Have a tip we should know? [email protected]
Josh Feldman - Senior Editor